In a world where technology is the beating heart of businesses, whether they're big or small, IT asset management (ITAM) takes center stage as a crucial practice. It's the key to efficient operations and protecting your organization from security risks. In this article, we'll explore what IT asset management for Jira is all about, why it's essential, and how to make it work smoothly using AssetIT, a software for IT asset management for Jira.
Understanding IT Asset Management
At its core, IT asset management is like the conductor of an orchestra. It's about managing, tracking, and optimizing all the technology resources your organization relies on. These resources include both physical hardware and software. The journey starts with creating a detailed inventory – a list of all your IT assets. IT asset management for Jira is the foundation of a house, supporting the rest of your management efforts. It helps you identify which Atlassian assets are active and which ones might be gathering dust.
Types of IT Assets
IT assets come in many shapes, including:
Hardware Assets
Considered as physical tools and equipment that keep your business running, they can be your computers, printers, scanners, and all the devices that hum along behind the scenes.
Software Assets
On the other side of the spectrum, software assets are the digital tools your team uses for various tasks. It includes everything from accounting software to productivity suites and collaboration tools, such as licenses, drives, services, etc.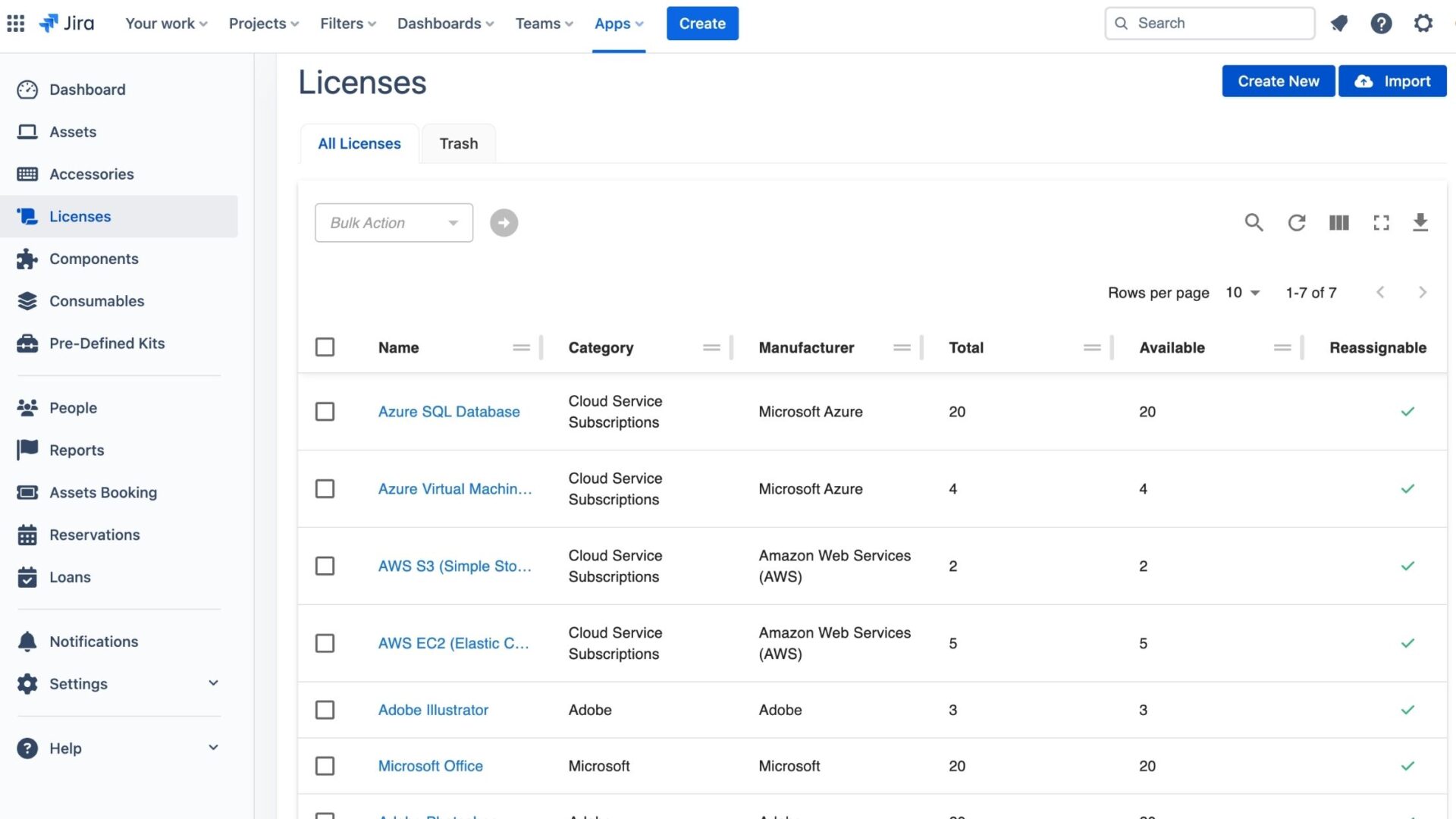 Accessories
Accessories encompass peripherals and add-ons that enhance the functionality of your hardware. Examples include keyboards, mice, monitors, external hard drives, and docking stations. Managing accessories is essential for ensuring that your hardware operates at peak efficiency.
Components
Think of components as the building blocks of your IT infrastructure. These are the internal parts that make your hardware function optimally. Components can include processors, memory modules, graphic cards, and hard drives. Proper management of components is crucial for maintaining hardware performance and ensuring timely upgrades.
Consumables
Consumables are the supplies and resources that your organization relies on for day-to-day operations. This category encompasses items like printer ink and toner cartridges, paper, cables, and batteries. Effectively managing consumables ensures uninterrupted workflow and cost-efficient resource allocation.
Why IT Asset Management for Jira Matters
So, why is IT asset management for Jira such a big deal? Well, here are the answers:
Cost Control:

It helps you take charge of your IT spending. You can identify and retire old or underused assets, saving money.

Security:

It keeps your software and hardware up to date, reducing the risk of security breaches.

Efficiency: It ensures that all your Jira CMDB and Jira assets are working together smoothly, minimizing downtime and boosting productivity.
Compliance:

It helps you stay on the right side of regulations and licensing rules, preventing legal headaches.

Budget Planning:

It provides insights into your future IT needs, so you can budget wisely.

Proactive Maintenance:

You can spot and fix issues before they cause major problems.

Cost Savings:

By eliminating or reallocating underused resources and licenses, you can cut your IT expenses.
The IT Asset Lifecycle
Managing IT assets is a bit of a process of nurturing a plant. There are five key stages: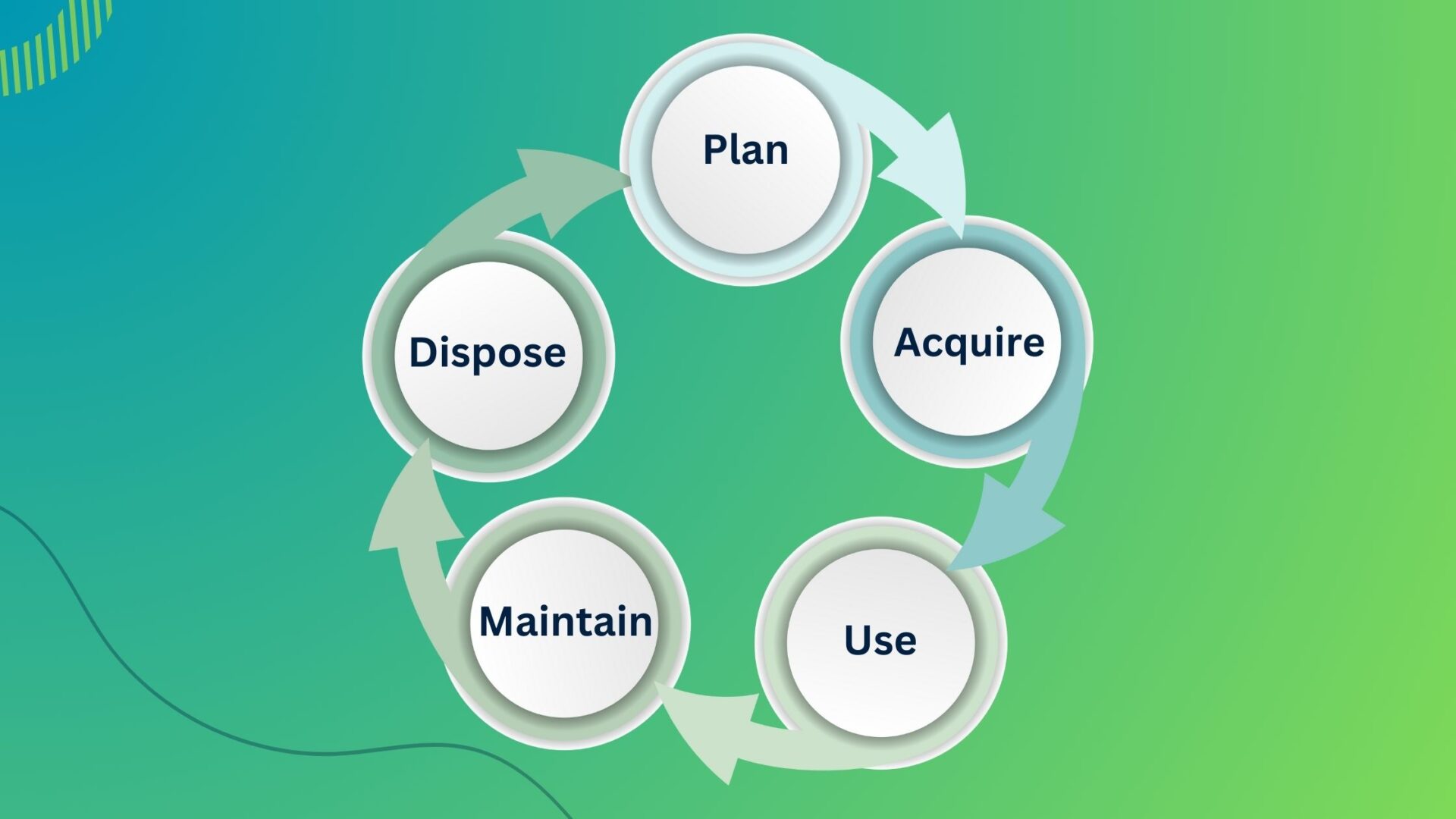 Plan:

This is where you figure out what your organization needs and why, starting to plant the seed for your IT garden.

Acquire:

Next, you buy and bring in the assets. Now, it's time to water and nurture that seed, helping it grow.

Use:

Your team puts these assets to work. It's essential to keep an eye on them and make sure they're well-maintained.

Maintain:

Just like you'd care for your garden regularly, assets need maintenance. It could be fixing issues, making improvements, or providing preventive care.

Dispose:

When an asset is past its prime and costs more to maintain than it's worth, it's time to let it go. You can repurpose, sell, or recycle it, depending on its condition.
Learn how AssetIT works on your asset management process at 5 Key Stages of The Atlassian Asset Management Process | How AssetIT can help?
Implementing IT Asset Management for Jira with AssetIT
Managing Jira assets manually is a big job; it's time-consuming and prone to errors. That's where AssetIT comes in:
Better Visibility:

It gives you a clear view of your assets and their status, helping you see the big picture.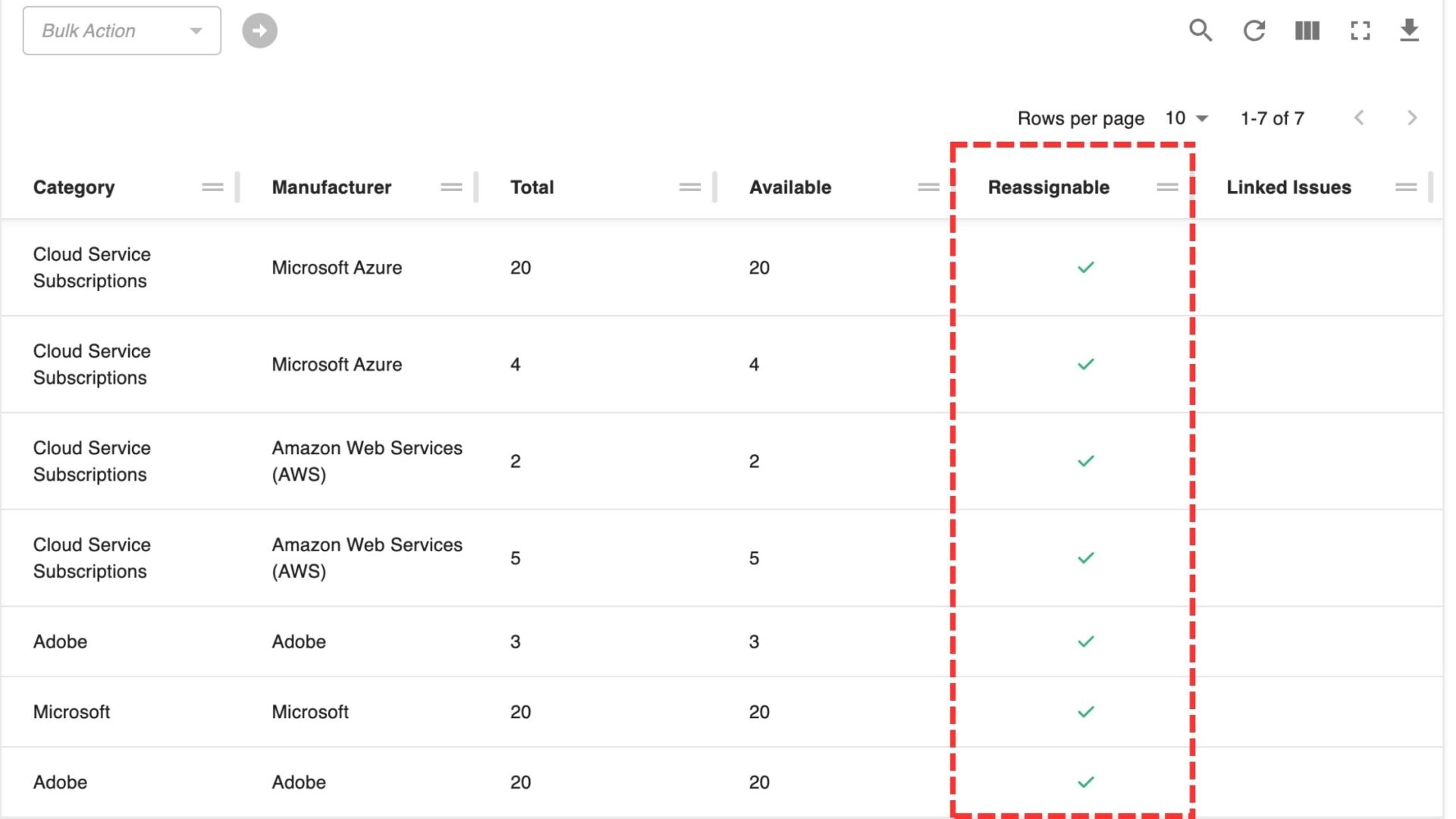 Rigorous Management:

You can implement robust asset management practices without breaking a sweat.

Easy Implementation

: AssetIT is quick to set up, so you can start seeing results faster.

Lifecycle Tracking:

You can monitor your assets throughout their lifecycle, ensuring they remain efficient.

Timely Updates:

AssetIT always keeps you in the loop, so you don't have to be anxious about missing out on any information.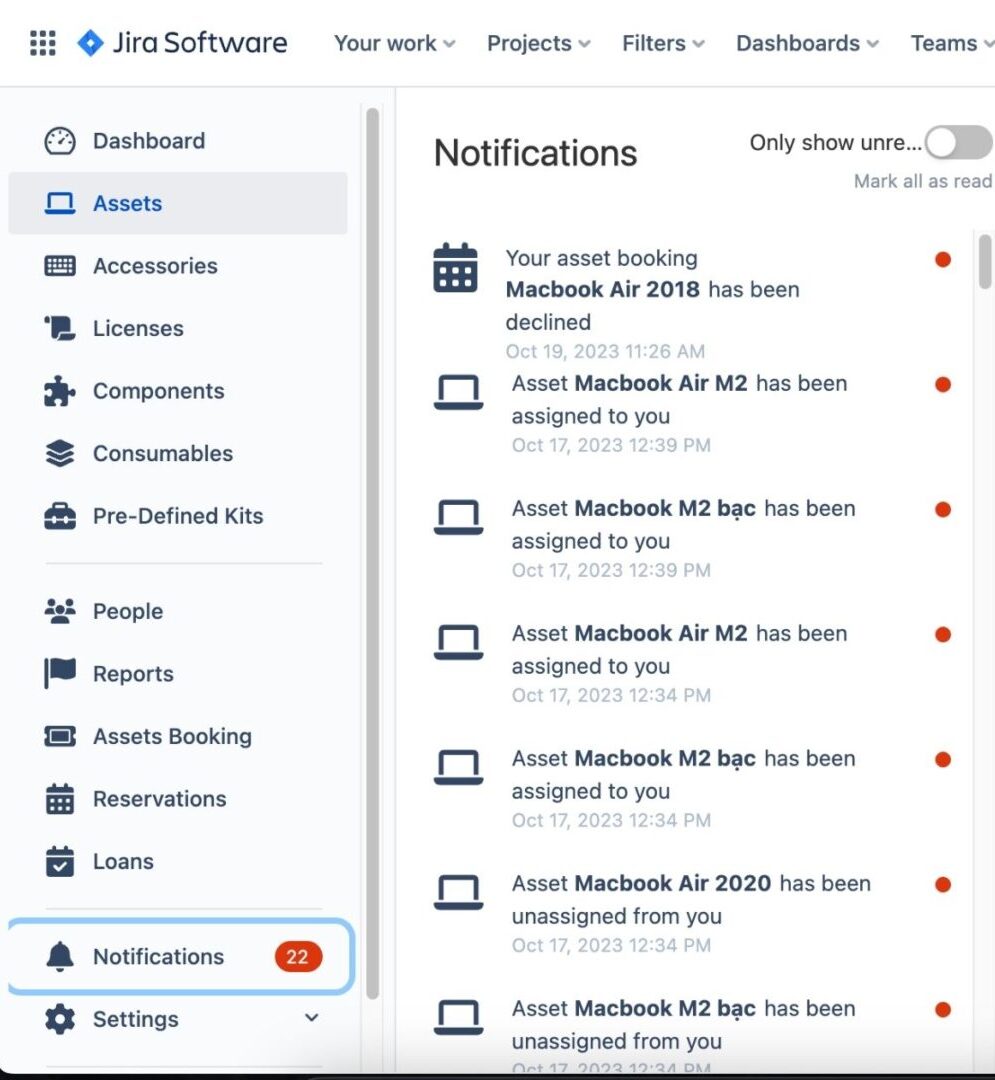 Audit-Ready Reports:

It comes with reporting tools that make audits a breeze and keep you compliant.
IT Asset Management for Jira Pricing
Surprisingly, AssetIT is reasonably priced while offering a plethora of useful features. This Jira asset management tool has a free plan for up to 10 users. For more information, go to Asset Management for Jira Price and look for your preferred package.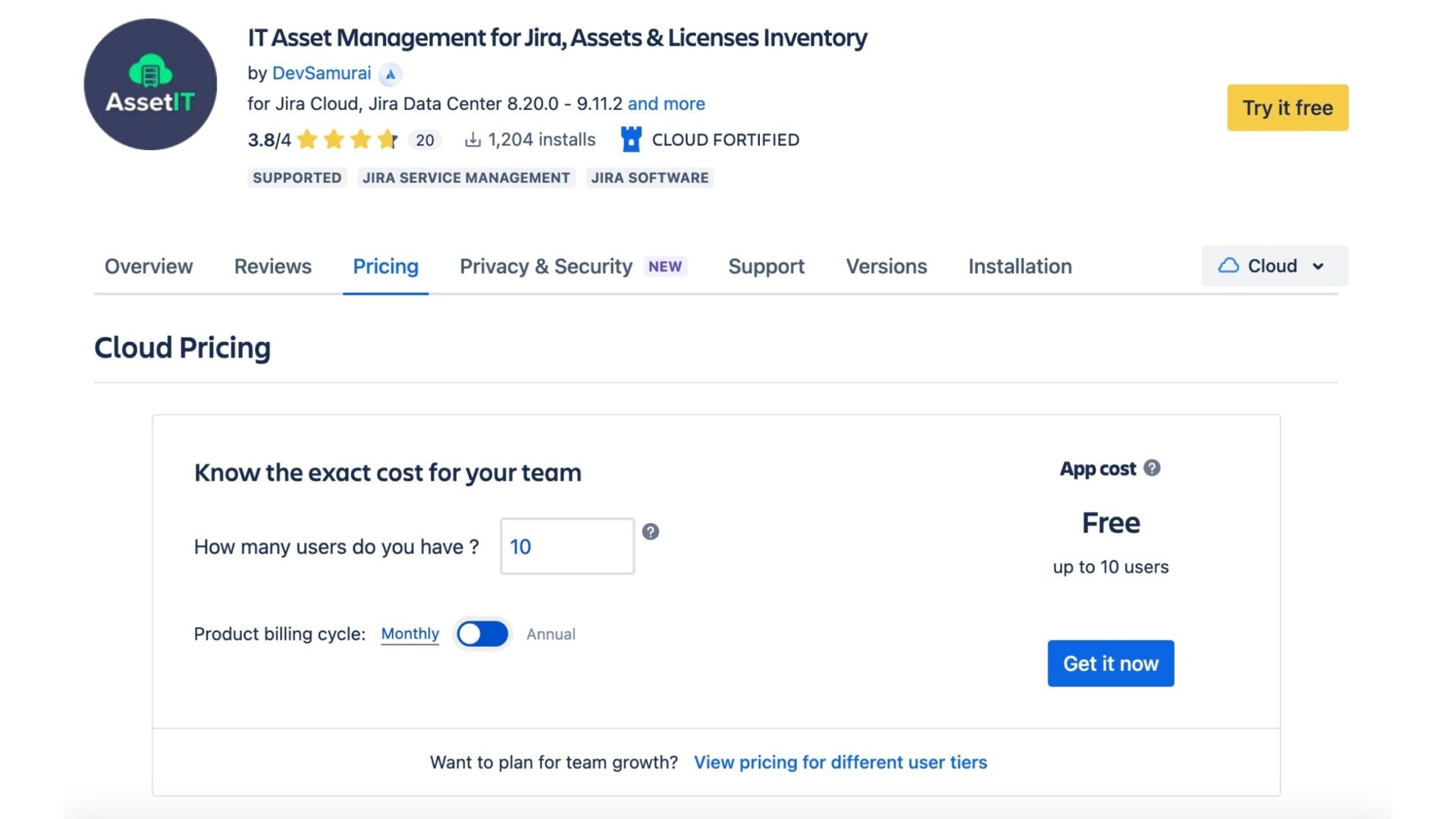 In Conclusion
IT asset management isn't just a best practice; it's a superpower that can transform your organization. With AssetIT, managing your IT assets becomes a breeze. It's like having a trusty sidekick by your side, ensuring that your assets are optimized, costs are controlled, and operations run smoothly. So, embrace AssetIT to unlock the full potential of your IT asset management for Jira journey. With AssetIT, your organization is ready to conquer the digital landscape and reach new heights.
If you have any questions, please feel free to contact us at Support Desk for a prompt response.