Efficiently managing assets is the cornerstone of successful businesses, enabling them to optimize productivity and minimize operational disruptions. In today's fast-paced environment, asset management tools have gained prominence for their ability to effectively track and maintain physical and digital assets. This blog will explore the top three asset administration apps, including AssetIT – an Asset Management tool in Jira, designed to seamlessly integrate with Jira and elevate managing capabilities.
AssetIT – Jira Asset Management: Powering Agile Asset Management in Jira
AssetIT – Jira Asset Management stands as a comprehensive solution, purposefully designed to seamlessly integrate with Atlassian's Jira platform. This integration brings forth a powerful asset management tool for businesses utilizing Jira as their project management hub, streamlining asset management in Jira and offering unparalleled asset tracking capabilities.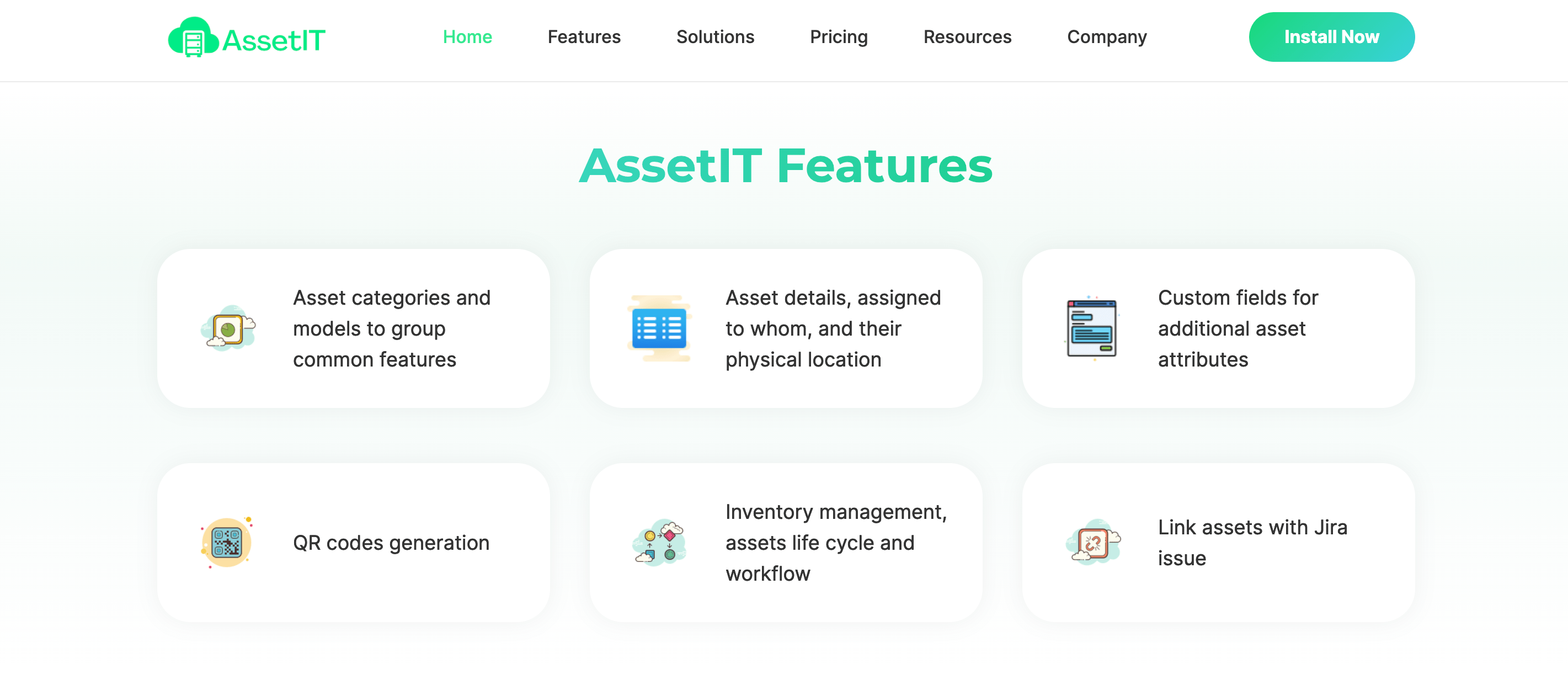 Key Features:
Asset Categories and Models: AssetIT allows users to create asset categories and models to group assets with common features. This enables organizations to classify and manage assets more effectively, facilitating organized asset tracking in Jira.
Detailed Asset Records: As an Atlassian asset management tool, AssetIT provides in-depth asset details, including information about the asset's assigned owner, physical location, and other relevant attributes. This feature ensures a comprehensive overview of each asset's status and usage.
Custom Fields for Enhanced Attributes: With AssetIT, users can define custom fields to include additional asset attributes tailored to their unique requirements. This flexibility fosters a more personalized asset management approach within Jira.
QR Code Generation: AssetIT streamlines asset identification and tracking by generating QR codes for each asset. This allows for quick and accurate asset identification using QR code scanners, making the procedure of management more efficient.
Inventory Management and Asset Lifecycle: AssetIT facilitates seamless inventory management, providing insights into available assets, their locations, and usage status. Furthermore, it allows users to track asset lifecycles from procurement to retirement, ensuring optimized asset utilization.
Workflow Integration: AssetIT's workflow management capabilities enable organizations to implement structured processes. Teams can define workflows for asset requests, approvals, and other asset-related tasks, streamlining the management of assets within Jira.
Assets Linking with Jira Issues: Through seamless integration, AssetIT allows assets to be linked directly with Jira issues. This integration enhances incident management, change management, and resource allocation by associating assets with specific tasks or projects.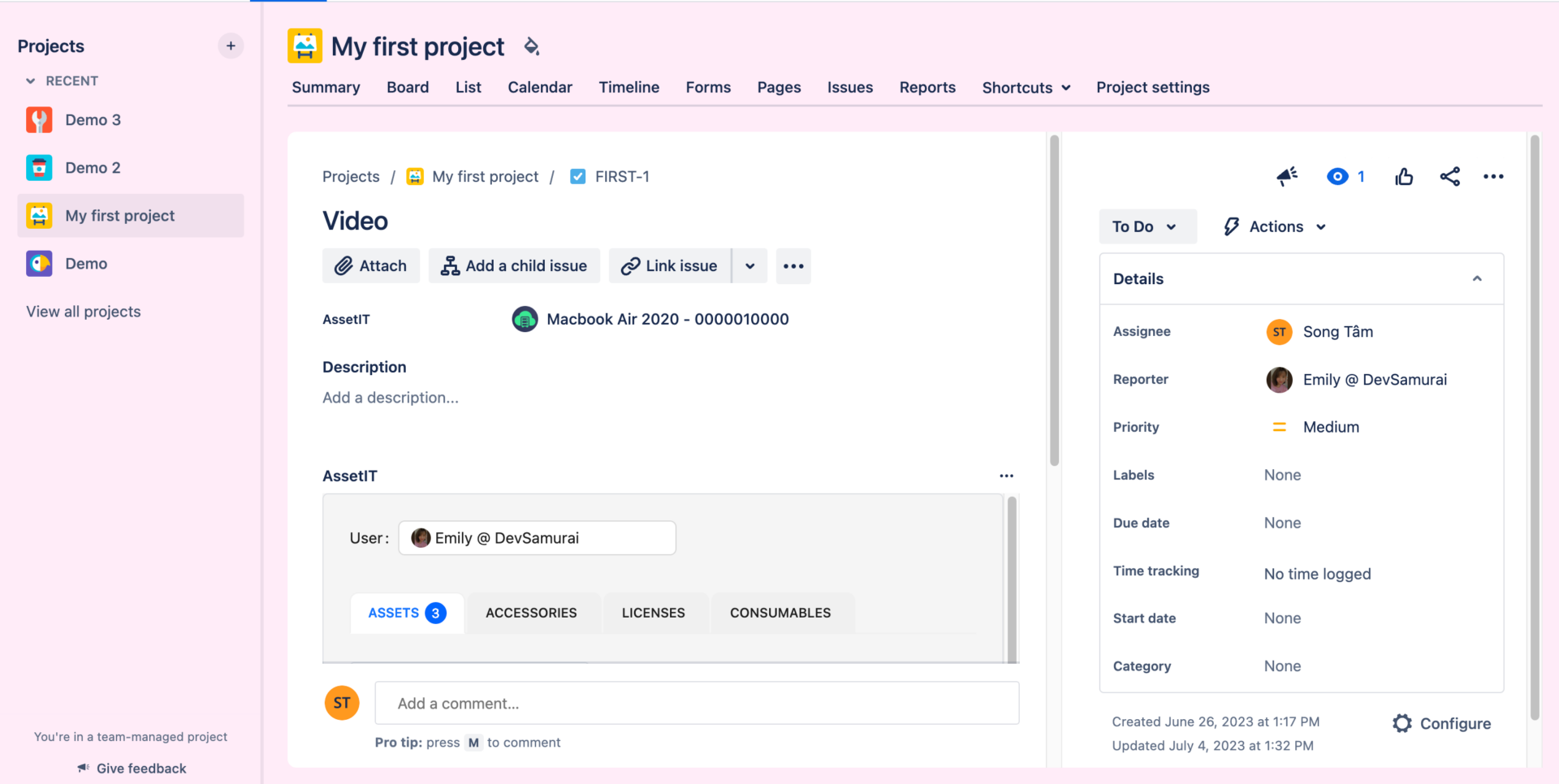 Try AssetIT on Atlassian Marketplace:  AssetIT – Asset Management Jira
IBM Maximo: A Trusted Enterprise Asset Management Solution
IBM Maximo is a well-established enterprise asset management (EAM) solution, trusted by diverse industries such as manufacturing, utilities, and transportation.
Key Features:
Maintenance Planning and Mobile Access: Maximo offers robust maintenance planning tools and mobile access, empowering technicians to update asset data on the go, and optimizing productivity.
Compliance and Regulatory Management: Maximo assists organizations in adhering to industry regulations and standards, ensuring compliance, safety, and environmental responsibility.
Predictive Analytics for Proactive Maintenance: Maximo's advanced analytics enable predictive maintenance, minimizing downtime and maximizing asset performance.
ServiceNow IT Asset Management (ITAM): A Cloud-Based Solution
ServiceNow focuses on managing IT assets and seamlessly integrates with other ServiceNow modules, offering a comprehensive solution for IT teams.
Key Features:
IT Asset Tracking and License Management: ServiceNow ITAM simplifies IT asset tracking, software license management, and compliance, reducing risks and financial liabilities.
Self-Service Portal and Service Integration: With a self-service portal, ServiceNow ITAM enables employees to request new assets and report asset-related issues. Integration with ServiceNow's service desk functionalities enhances incident resolution and service delivery.
To Sum Up
Effective asset management in Jira is crucial for businesses seeking optimized productivity and streamlined operations. AssetIT – Jira Asset Management, with its seamless integration into Jira and an array of essential features, leads the pack by empowering organizations to manage their assets efficiently. Alongside IBM Maximo and ServiceNow ITAM, these top-tier asset support tools cater to diverse needs, ensuring businesses can leverage their assets effectively for sustained growth. Integrating asset managing with Jira through AssetIT sets a new standard, allowing businesses to harness the full potential of their Jira platform while seamlessly managing their valuable assets. Try AssetIT today and let us know your thoughts!
Visit our previous blog to explore the differences between Jira Premium Assets and AssetIT: AssetIT vs. Jira Premium Assets: What Sets Them Apart? | Asset Management for Jira 
For any inquiries, please visit Support Desk for prompt assistance.