Effective asset management is vital for any organization's IT infrastructure, and with the right tools, the process becomes a breeze. In this blog post, we will explore the advantages of using AssetIT, a specialized IT Asset Management (ITAM) app designed exclusively for Jira. If you're looking for a seamless solution for asset management in Jira, AssetIT is the way to go!
About AssetIT and Jira Premium Assets
AssetIT is an indispensable IT Asset Management (ITAM) app tailored specifically for Jira, catering to organizations of all scales. This powerful tool empowers businesses to effortlessly monitor and manage their physical hardware assets, software licenses, and consumables with utmost efficiency.
Jira Premium Assets is also a tool of asset management in Jira, in the Premium package of Jira Service Management. It enables teams to efficiently track their assets, configuration items, and resources, providing valuable insights into the vital connections between applications, services, underlying infrastructure, and other essential dependencies. With Assets, users can easily visualize these relationships, fostering a deeper understanding of their IT environment.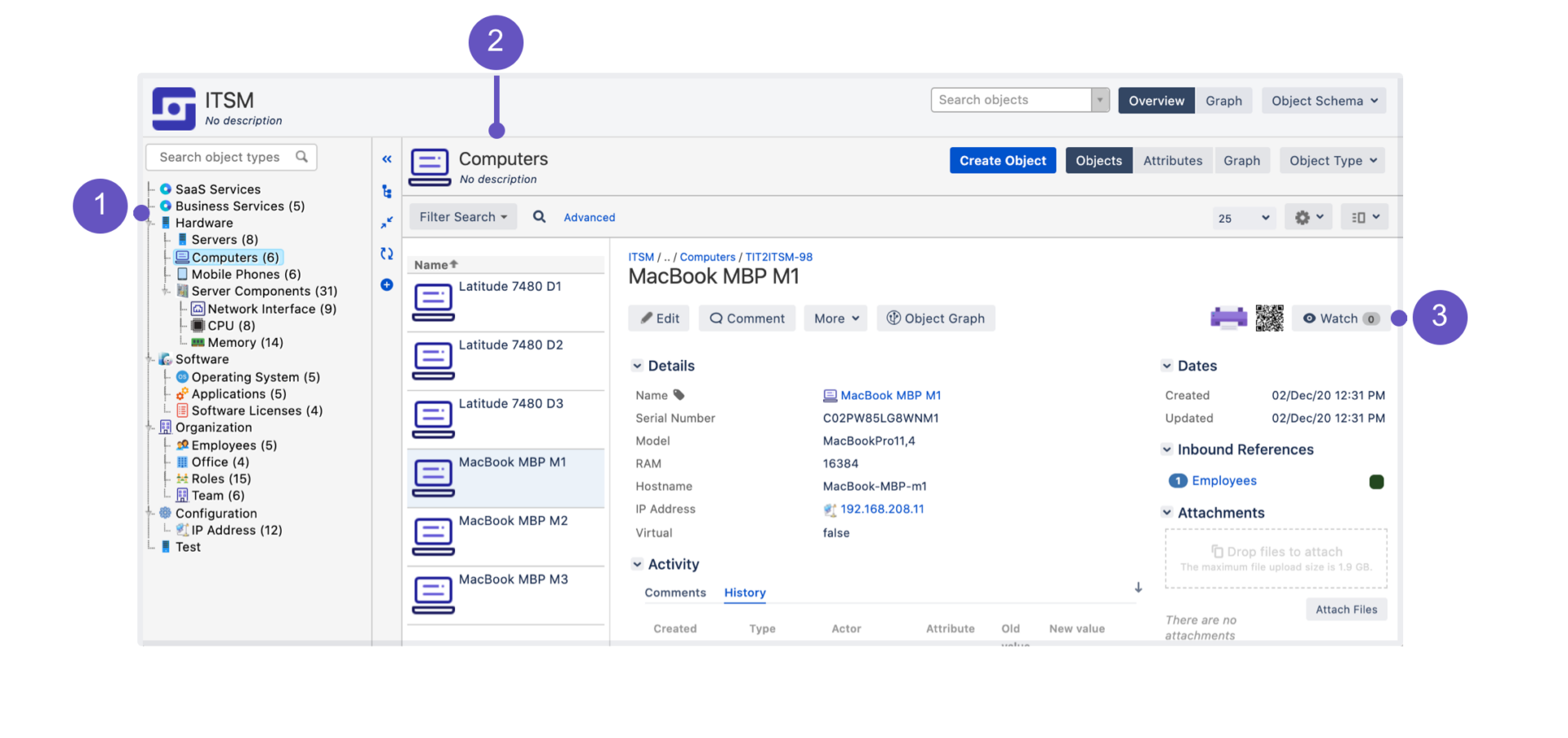 AssetIT vs. Assets in Jira Service Management Premium: What Sets Them Apart?
Core Functionality
AssetIT stands out as a custom app specifically designed for IT asset management in Jira, offering a modern and straightforward UI/UX for an intuitive experience. Its comprehensive set of features caters exclusively to asset management needs, ensuring precision and efficiency in handling assets of all types. On the other hand, Jira Premium Assets serves as a generic Configuration Management Database (CMDB) based on Jira data, granting it immense flexibility to serve multiple purposes. While asset management is part of its repertoire, AssetIT's dedicated approach delivers a more specialized and tailored solution for organizations requiring a robust asset management system.
Extended Features for Hardware Asset Management in Jira
AssetIT takes asset management in Jira to new heights, offering in-depth hardware asset features such as detailed tracking of specifications, asset location, department categorization, and changeable history. Additionally, it facilitates asset identification with customizable QR code generation and empowers users with advanced dashboards and specific reports. Notably, AssetIT also supports asset booking and asset loan functionalities, providing a holistic asset management experience. Looking ahead, AssetIT's future releases promise integration with Mobile Device Management (MDM) and Cloud services, elevating its functionality further.
Meanwhile, Jira Premium Assets does offer visibility into asset location and status. Its general approach however lacks specificity in key asset management areas like dedicated dashboards, detailed reports, asset booking, and asset loan features.
User-Friendly Interface
AssetIT excels in user-friendliness, enabling inexperienced users to dive right into the application without the need for complex configurations. Its intuitive design ensures a smooth experience, making it an ideal choice for organizations seeking a hassle-free asset management solution. Conversely, Jira Premium Assets, being a generic tool, demands experienced users to invest time and effort in configuring and setting up metadata before it becomes accessible to non-technical users.
Purchase Options
AssetIT accommodates organizations of various sizes by offering multiple purchase options tailored to specific needs. This flexibility allows you to select a plan that perfectly aligns with your organization's requirements. In contrast, Jira Premium Assets is exclusively available within the Jira Service Management Premium package, limiting options for users seeking a standalone asset management solution.
Conclusion
AssetIT emerges as a powerful and specialized asset management in Jira, equipped with tailored features and a user-friendly interface that simplifies asset tracking and enhances efficiency. While Jira Premium Assets remains versatile, it may not provide the same level of precision and convenience in asset management. By choosing AssetIT, your organization can optimize asset management within Jira and pave the way for seamless and strategic IT infrastructure management. Try AssetIT today (available on Atlassian Marketplace) and let us know your thoughts!
Visit our previous blog about hosting options with AssetIT: Jira Cloud vs. Jira Data Center: What are the Differences? | Hosting Options with AssetIT
For any inquiries, please visit Support Desk for prompt assistance.