When it comes to selecting the ideal hosting option for Jira, organizations often weigh the differences between Jira Cloud and Jira Data Center. Understanding the distinctions between these two hosting options is crucial in making an informed decision. In this blog post, we will explore the contrasting features of Jira Cloud and Jira Data Center, with a focus on the hosting options offered by AssetIT. After all, you can make a well-informed choice that aligns with your organization's needs.
Jira Data Center: On-Premise Hosting Option
Jira Data Center provides organizations with the flexibility of hosting the application on their own hardware with the following key features:
Complete control over hosting

: With Jira Data Center, you have full control over the installation, configuration, and customization of your Jira instance. This level of control is beneficial for organizations that prioritize customization and maintaining their own IT infrastructure.

Server maintenance

: Jira Data Center requires your organization's IT team to handle server maintenance, including upgrades and updates. This hosting option empowers your IT team to manage server configuration, customization, and security.

Scalability considerations

: While Jira Data Center supports scalability, it is limited by the capacity of your hardware. Expanding resources to accommodate a growing user base may require additional investments in infrastructure.
Jira Cloud: Atlassian's Hosted Solution
On the other hand, Jira Cloud offers a cloud-hosted solution provided by Atlassian. Let's explore its key features related to hosting options:
Hassle-free setup

: With Jira Cloud, the hosting process is quick and easy. By leveraging Atlassian's servers, you can set up your Jira instance in just a few clicks.

Automatic upgrades and maintenance

: Atlassian takes care of server maintenance, including upgrades and security patches. This allows your organization to focus on using Jira rather than routine maintenance tasks.

Scalability and low maintenance costs

: Jira Cloud offers easy scalability with just a few clicks. Adding users or resources is simplified, and the hosting option requires minimal IT overhead, resulting in lower maintenance costs.
AssetIT Hosting Options
AssetIT, a robust asset management tool for Jira, has supported both Jira Cloud and Jira Data Center hosting options since June 2023. This means that organizations can opt for the convenience and scalability of Jira Cloud, hosted on Atlassian's servers, or the extensive control and customization provided by Jira Data Center, installed on their own hardware while using AssetIT.
Moreover, this flexibility ensures that organizations can select the hosting solution that best aligns with their specific needs, preferences, and IT infrastructure requirements. Whether it's a hassle-free cloud-based setup or the ability to manage and customize the Jira instance on-premise, AssetIT's hosting options cater to a diverse range of organizational needs.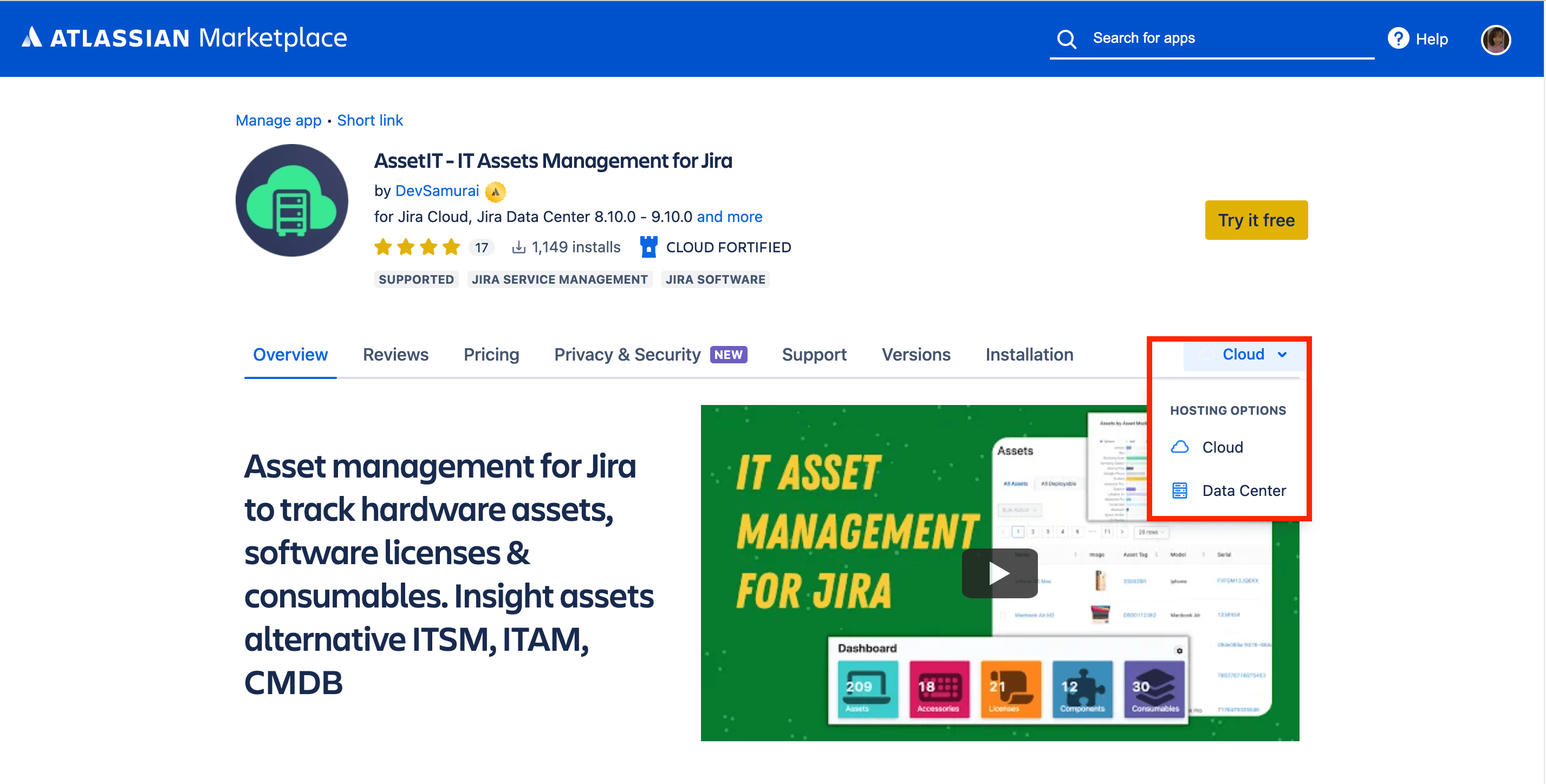 Conclusion
With regard to choosing the right hosting option for Jira, understanding the differences between Jira Cloud and Jira Data Center is essential. Jira Data Center provides complete control and customization, making it an ideal choice for organizations that require extensive customization and control over their IT infrastructure. On the other hand, Jira Cloud offers convenience, scalability, and lower maintenance costs, making it an attractive option for organizations seeking a hassle-free hosted solution.
By considering factors such as customization requirements, scalability needs, and overall hosting preferences, you can make an informed decision that optimizes the use of Jira as well as AssetIT within your organization. Ultimately, the choice between hosting options will depend on your organization's unique circumstances and long-term goals.
Visit our previous blog: 5 Most Effective Tips for Assigning Assets to Your Team | Optimizing Resource Management with AssetIT
For any inquiries, please visit Support Desk for prompt assistance.