Reports are invaluable tools that provide crucial insights and data for effective decision-making in organizations. In AssetIT, running reports can help you gain a comprehensive understanding of your assets and their performance. In this blog post, we will provide a step-by-step guide on how to run a report in AssetIT, enabling you to harness its full potential.
What Is a Report?
A report is a structured document that offers detailed information about a particular subject, event, or set of data. Regarding AssetIT, reports will provide a comprehensive overview of asset-related metrics, including performance, utilization, maintenance history, and more. These reports allow organizations to make data-driven decisions, identify areas for improvement, and optimize asset management strategies.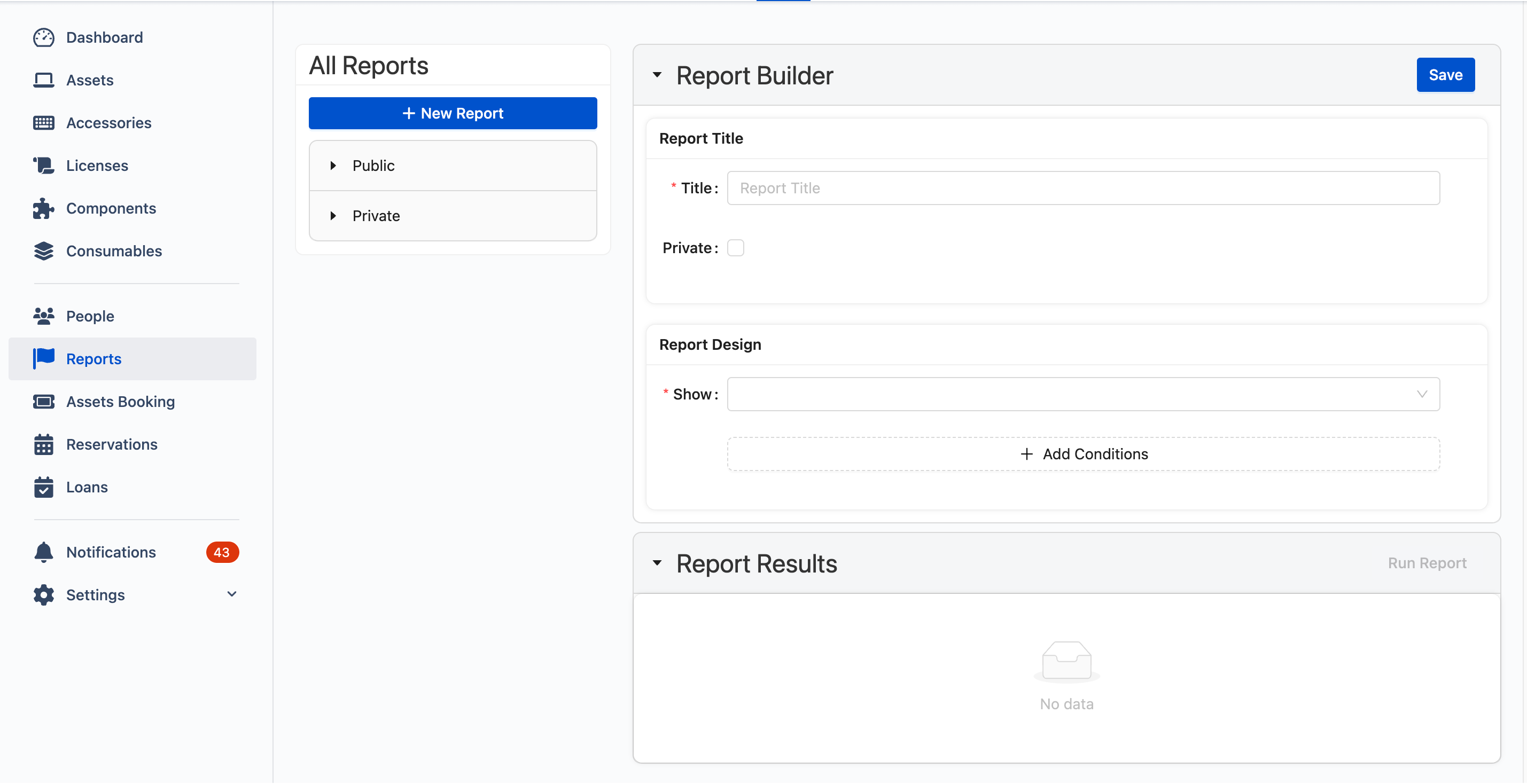 Why Is It Important to Run Reports?
Running reports in AssetIT holds several key benefits:
Data-Driven Decision-Making:

Reports provide valuable insights by consolidating and analyzing asset-related data. They enable stakeholders to make informed decisions based on accurate and up-to-date information, leading to optimized asset utilization, cost reduction, and improved performance.

Performance Evaluation:

Reports help assess asset performance by presenting key performance indicators (KPIs) such as uptime, downtime, utilization rates, and maintenance costs. This evaluation empowers organizations to identify underperforming assets, implement preventive measures, and enhance operational efficiency.

Compliance and Regulatory Requirements:

Reports assist in meeting compliance and regulatory obligations. By generating reports that demonstrate adherence to safety standards, maintenance schedules, and legal requirements, organizations can avoid penalties and ensure asset integrity.
Step-by-step Guide to Run a Report in AssetIT
In AssetIT, click Reports to be navigated to the Reports page, which contains 3 main sections: All Reports (1), Report Builder (2), and Report Results (3).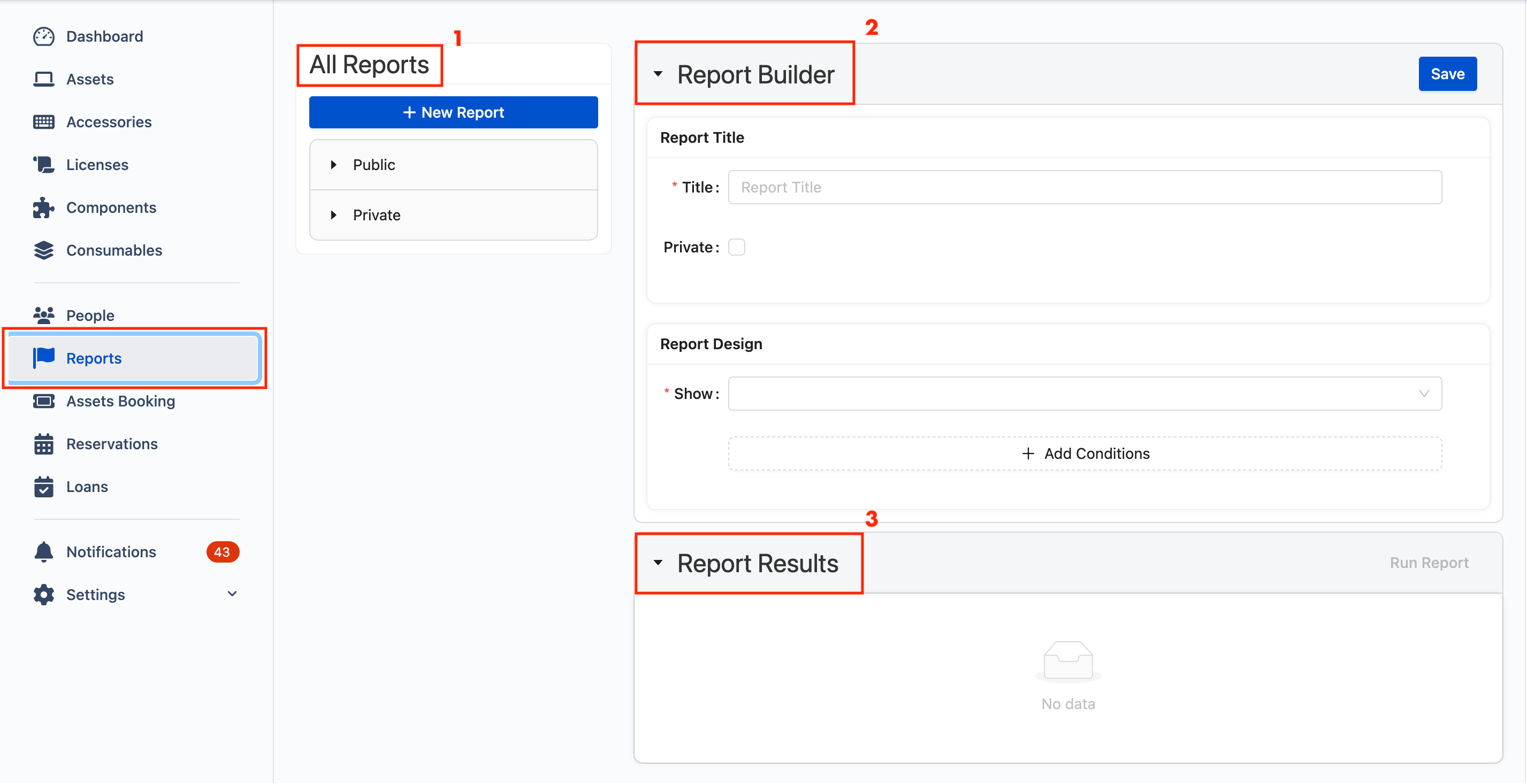 Create a Report Builder
A Report Builder in AssetIT helps you create and customize reports based on your specific requirements. Before running a report, make sure that you have designed the data according to your interest.
To create a new Report Builder, click New Report to start building a new report. 
There will be 3 sections in the Report Builder: Report Title, Report Design, and Select Fields to Display ( Please be noted that Select Fields to Display will only appear after you select the data to be reported in Report Design) 
A. Report Title
This is where you name your report. If you wish to keep your report private, simply check the Private checkbox. Remember, only owners and admins can view and delete private reports.

B. Report Design
In this section, you can choose specifically what needs to be included in your report. There will be a list of items, namely Assets, Accessories, Licenses, Consumables, or Components. You can also add conditions to narrow down the data.

For example, you would like your report to display Assets that the Asset Model names contain "Macbook" and Assets that have been purchased in the Last 7 days:

C. Select Fields to Display
In this section, you have the option to select the fields that will be displayed or exported in your report. There will be Default Fields and Custom Fields for you to choose from. The Select All options can help you include every item in each of the sets.
Report Results
Once you have completed the design of your report to meet your specific requirements, simply click Run Reports to generate the desired result. You can choose to export the report results in either CSV or PDF format.

All Reports
All reports allows you to see the reports' formulas of both private and public statuses by clicking on the report that you wish to see.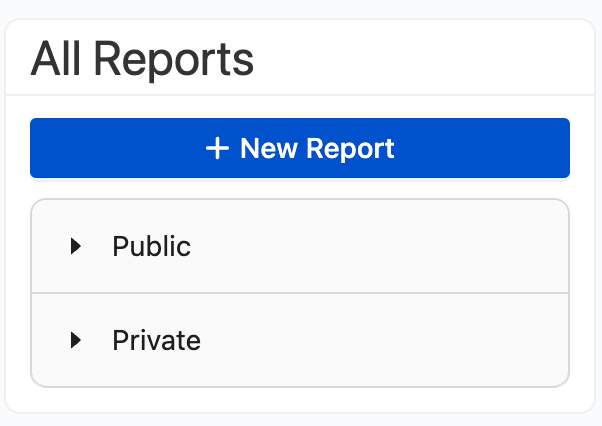 Summary
Running reports in AssetIT is a vital step toward optimizing asset management processes. By clearly identifying and specifying the precise requirements and criteria for a report, AssetIT enables you to gain a comprehensive and detailed understanding of the data. Follow these steps to harness the power of reports in AssetIT to unlock the full potential of your assets and drive organizational success.
For any inquiries, please visit Support Desk for prompt assistance.
To manage your consumables, please visit the previous blog – Guide #7: How to Manage Consumables in AssetIT