In today's fast-paced world of IT inventory management, where the smooth operation of every digital asset is crucial for an organization's success, efficient asset tracking is non-negotiable. Two standout players in IT inventory management have taken center stage: Atlassian Asset Management and AssetIT. Both offer robust solutions for tracking and managing IT assets, but every IT professional's question is, "Which one should I choose?"
In this in-depth comparison, we're here to give you a clear view of the pros and cons of each of these applications. Whether you're a seasoned IT guru looking to level up your asset tracking game or a newcomer searching for the perfect solution for your organization, we've got you covered. So, let's get started and uncover the strengths and weaknesses of these two impressive contenders.
An Overview of Atlassian Asset Management
Atlassian Asset Management, or Assets, is like the Swiss Army knife of Jira Service Management, offering a versatile tool for managing assets and configurations. As a result, it's designed to make life easier for teams by allowing them to track all sorts of assets and configuration items (CIs). What's even better is that it seamlessly connects these assets to service requests, incidents, problems, changes, and workloads, painting a vivid picture of how everything is interconnected in the IT world.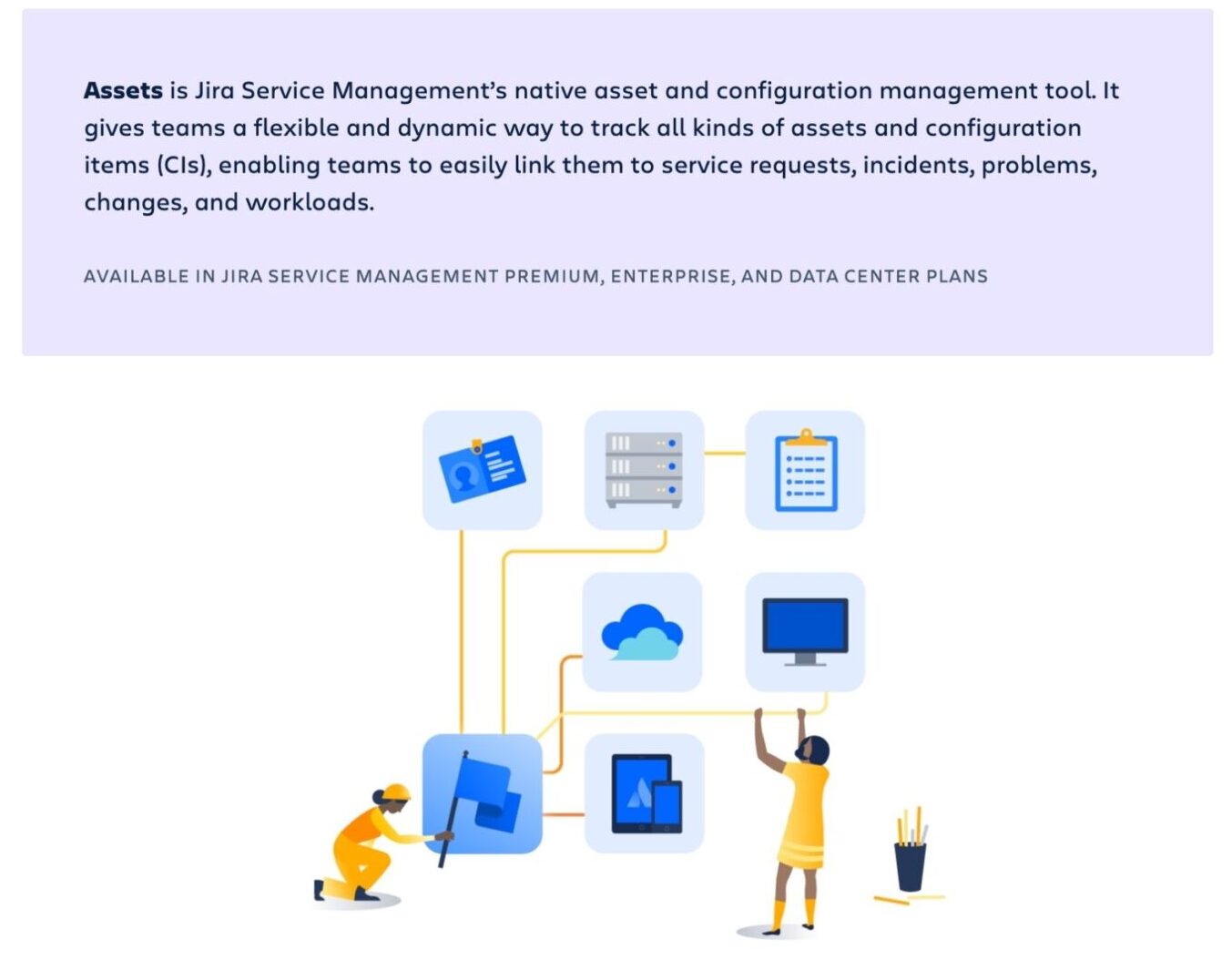 Atlassian Asset Management is seamlessly integrated into the Jira Service Management platform. That means you can quickly link assets and configurations to all your service-related tasks. Unlike old-school configuration management databases (CMDBs), Jira Assets is super flexible. It lets you manage any kind of asset you need to support your ITSM practices. And guess what? It's not just for IT. Teams in HR, sales, marketing, legal, and facilities can all hop on this inventory management train to track and manage their assets and resources.
Additionally, premium and enterprise users get to enjoy Assets right from their Jira Service Management projects. Just look for it in the top navigation bar. And if you're on a Free or Standard site, you can get in on the action by changing your plan to a premium one, following these steps: Settings > Billing > Manage Subscriptions > Change.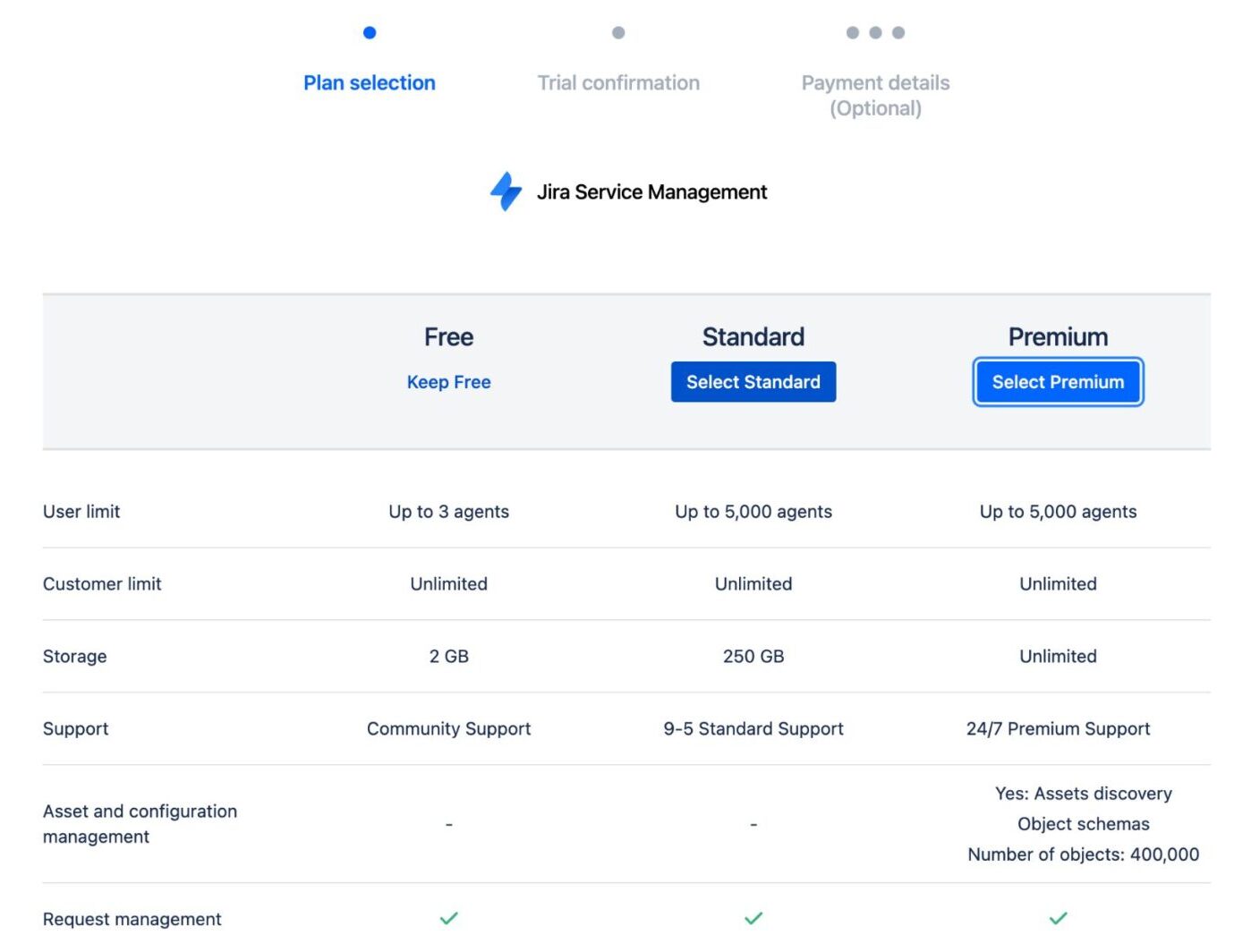 Source: Atlassian Document
Factors to Consider
With Atlassian Asset Management, IT teams can enjoy a bunch of benefits:
Speedier service request resolutions:

In Assets, you can link customer assets, fondly known as "objects," directly to the issue at hand.

Risk reduction:

Understand how changes affect downstream processes and take action accordingly.

Issue context:

When tackling major incidents, having the right context can be a game-changer. Assets provide that extra oomph.

Visibility into infrastructure:

Gain a deep dive into your infrastructure, making it easier to spot and fix problems lurking beneath the surface.

Asset tracking for the win:

Plan, audit, and ensure compliance—all with ease.
Learn more about Jira Asset Management at What is Jira Asset Management? Discover 4 Steps to Get Started with AssetIT.
Pros and Cons
Now, let's shift our focus to the positive side and explore the benefits of Atlassian Asset Management:
Versatile Inventory Management:

It's your flexible asset and configuration management solution, fitting the needs of various industries and functions.

Seamless Integration:

Easily integrates into Jira Service Management, letting you link assets directly to service requests, incidents, and more.

Risk Mitigation:

Gain insights into how changes affect downstream processes, helping you mitigate risks.

Flexibility:

Unlike traditional databases, Assets' open structure lets you manage any asset type for your ITSM practices.
On the flip side, it's essential to be aware of some potential drawbacks when it comes to Jira Asset Management, namely:
Platform Dependence:

Assets work best within Jira Service Management, which may limit accessibility for non-users.

Subscription Requirement:

Premium and enterprise users enjoy full access, while Free and Standard users may need to upgrade their plans.

Complexity for Basics:

For simpler asset management needs, Assets' features can feel a bit overwhelming.

Reporting Limitations:

In some versions, advanced reporting is lacking, necessitating extra tools or integrations for in-depth analytics.
References
For more information, you can access the Atlassian Document: What is Assets in Jira Service Management Cloud?, or What's in Assets for Cloud?. The DevSamurai Jira Guru series took a closer look at Assets and offered a fresh perspective: Jira Service Management: Does It Align with Your Team's Goals?.
An Overview of AssetIT
Let's dive deeper into AssetIT, your ultimate Atlassian asset management solution. Whether you're part of a small startup or a large enterprise, AssetIT is designed to cater to organizations of all sizes, making the complex task of asset management a walk in the park.
First and foremost, you can say goodbye to the headache of tracking physical hardware assets, software licenses, and consumables through convoluted spreadsheets or multiple tools while using AssetIT. It's your all-in-one solution that brings simplicity and efficiency to asset management.
But that's not all. AssetIT goes the extra mile by helping you manage consumables, so you never run out of essential supplies when you need them most. The notification and alert system will always keep you in the loop with any signs of minimum quantity.
So, whether you're a startup looking to establish solid asset management practices or a large corporation seeking to streamline your operations, AssetIT is your trusted companion on the journey to efficient asset tracking and management.
Factors to Consider
Get ready to explore Asset's features that take your asset management in Jira to the next level.
Smart Asset Grouping:

Think of AssetIT as your friendly assistant that simplifies asset management by grouping assets based on what they have in common. It's like putting all your books on one shelf, making it easier to find what you need.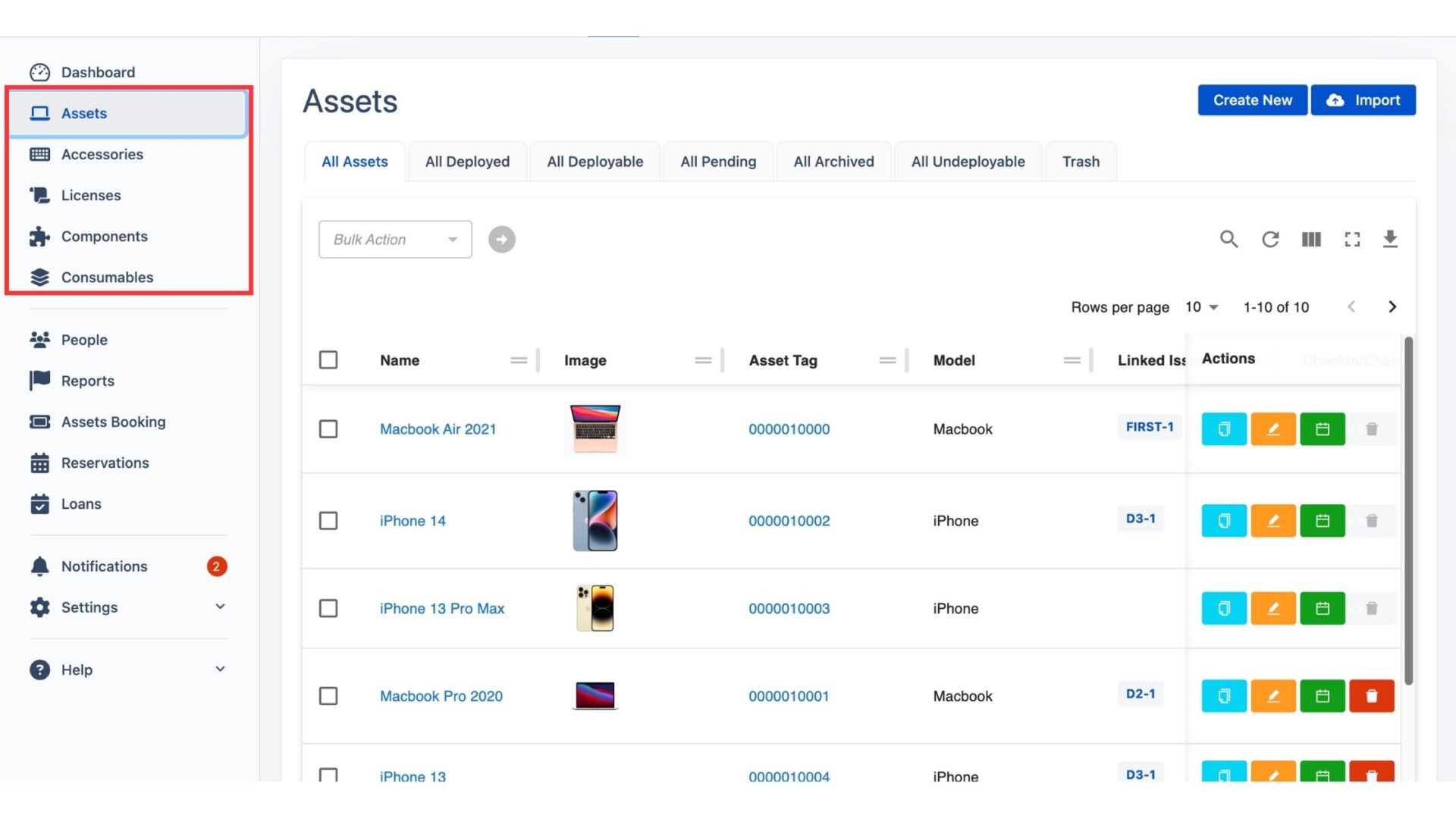 Comprehensive Asset Details:

Imagine having a single place where you can find everything you need to know about your assets – who's using them and where they're located. It's like having a digital filing cabinet for your assets.

Tailored Asset Attributes:

With AssetIT, you're in control. You can customize your asset information with fields that suit your unique needs. It's like personalizing your workspace to make it just right for you.

Efficient QR Code Generation:

We've made asset tracking a breeze with QR codes. It's as easy as scanning a code on your phone. Therefore, you have all the info you need right at your fingertips.

Streamlined Asset Tracking:

AssetIT is like your trusty sidekick, helping you keep track of assets, manage your inventory, and keep your workflow running smoothly. It's all about making your life easier.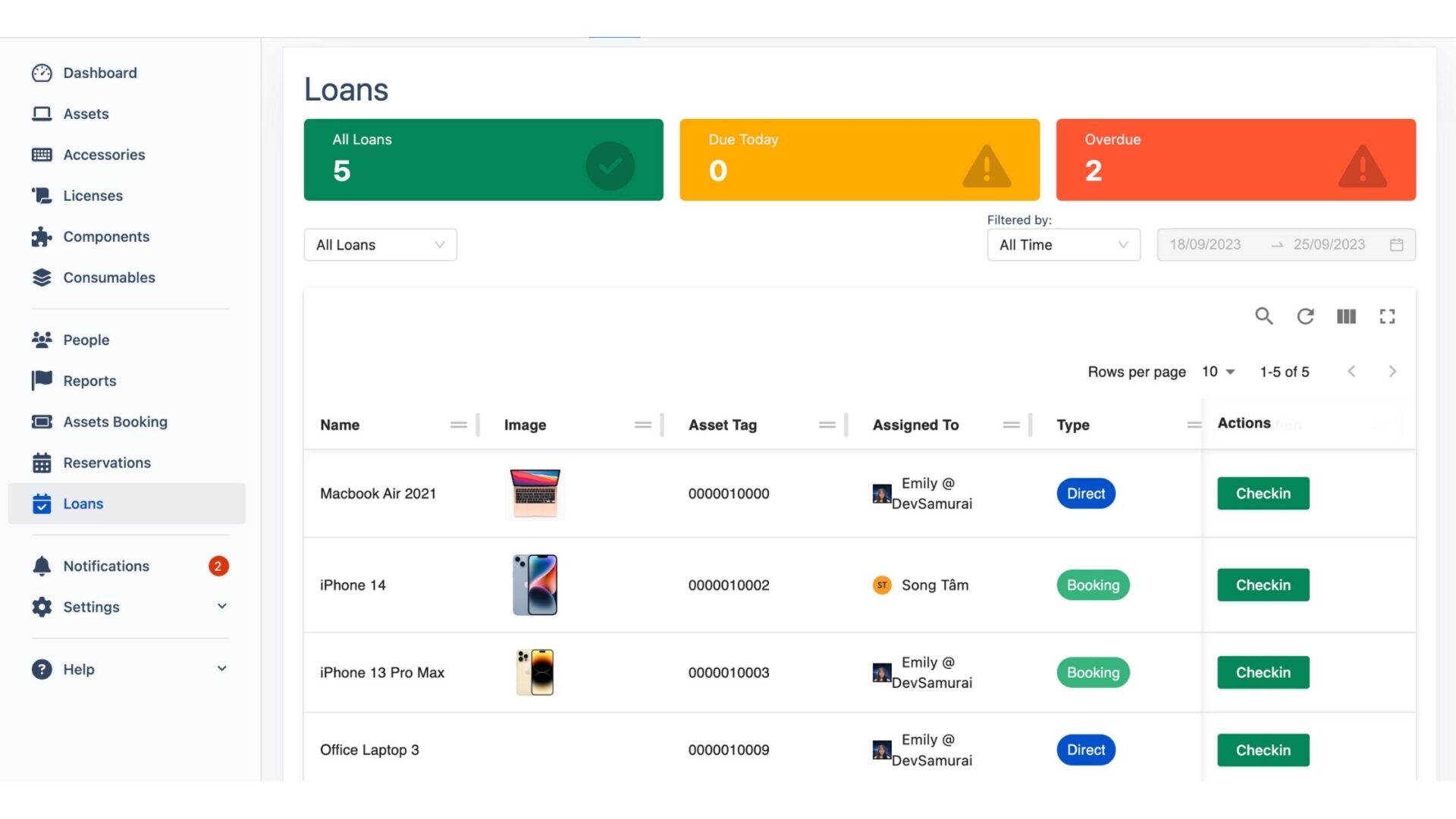 Seamless Jira Integration:

AssetIT plays well with Jira, making it a piece of cake to connect assets with your Jira issues. It's like having a supercharged project management tool at your disposal.
Watch How to Assign Assets in a Jira Issue:
Highly Effective Notification System:

The alert feature ensures you're always in the know, providing timely updates and personalized alerts to streamline your asset management process.

Asset Insights:

AssetIT's report system is your go-to tool for gaining valuable insights, allowing you to generate customized reports that fit your unique asset management needs with ease.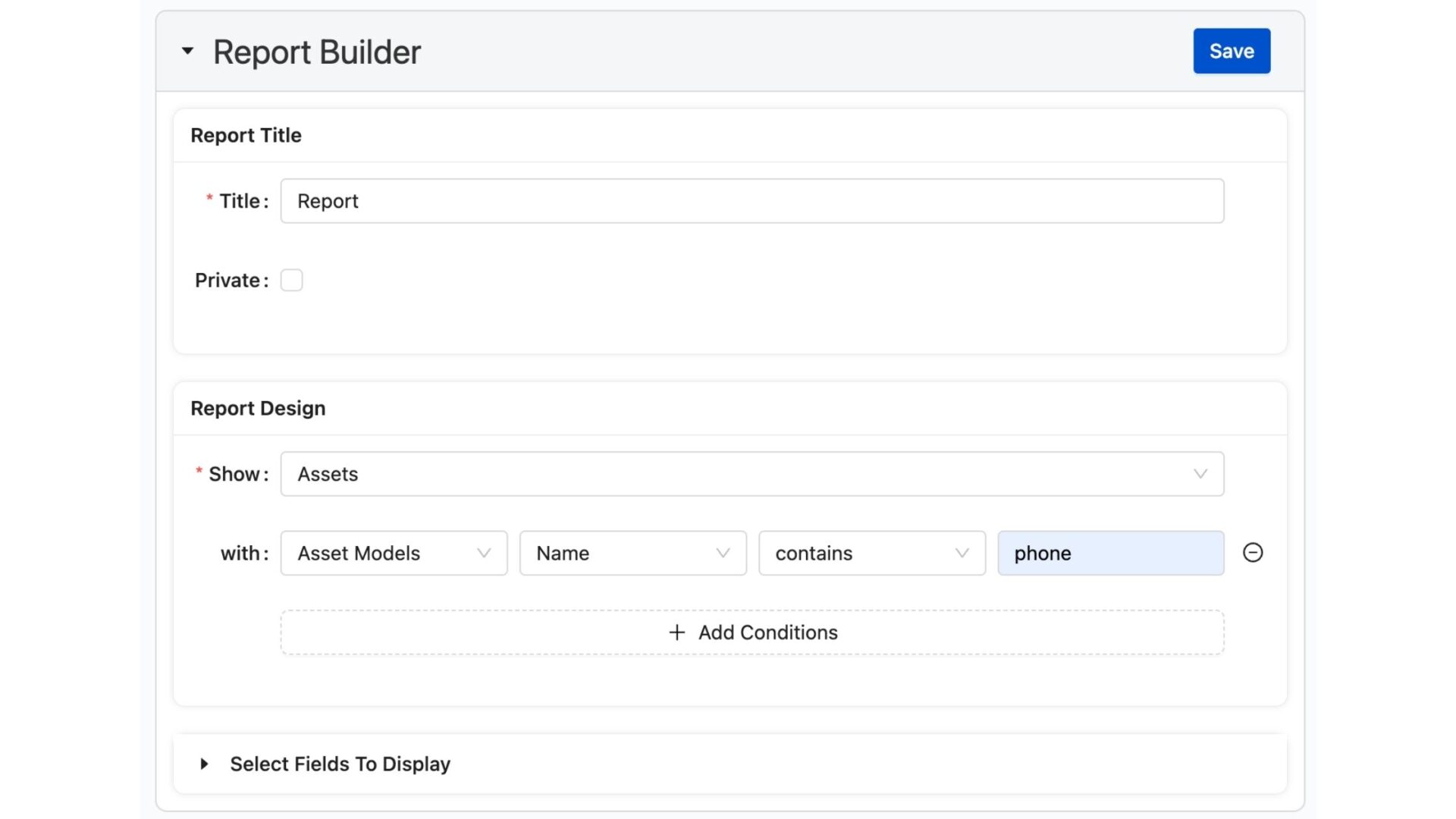 Pros and Cons
As we delve deeper into the world of AssetIT, let's explore the advantages and potential drawbacks of this Jira asset management solution. And eventually, it will help you make an informed decision for your organization.
Pros:
Free Plan for Small Teams: Unlike Assets in Jira Service Management,

AssetIT offers a generous free plan that accommodates teams of up to 10 users. This makes AssetIT an excellent cost-effective choice for smaller organizations or teams looking to manage their assets efficiently without breaking the bank.

Innovative Asset Categorization: Secondly, t

hink of this as your asset organizer. It makes life easier by sorting assets based on what they have in common. So, you can find what you need quickly and effortlessly.

All-Inclusive Asset Information:

Next, imagine having all your asset info in one neat place. It's like having a digital file cabinet for your assets, making everything transparent and easy to access.

Quicker and Easier Tracking:

Apart from providing comprehensive asset details, QR code generation in AssetIT is also a powerful tool. It's as simple as scanning a QR code with your phone, and voila. So, you have all the info you need right there.

Effortless Jira Compatibility: What's more is that

AssetIT plays nice with Jira. Thanks to this integration, it is a snap to connect assets with your Jira projects.

Powerful Alerts:

Stay in the loop effortlessly. The alert system keeps you informed with timely updates, ensuring you're on top of your asset game.

In-Depth Data Analysis:

Last but not least, customizable reports give you the power to make informed decisions. From that, you can supercharge your Jira asset management.
Cons:
Integration Dependency:

Here's something to consider. If your organization doesn't rely heavily on Jira as your main tool, you might not fully benefit from AssetIT integration.

QR Code Learning Curve:

AssetIT hasn't supported barcode generation yet. So, for those who aren't familiar with QR codes, this might seem a tad tricky at first.
References
Apart from various features AssetIT provides, it also has all-round and comprehensive documents like Guides, eBooks, and tutorial videos for users. Most importantly, the AssetIT Support Desk is available 24/7 for your input about new feature requirements, technical support, and more. Let us hear your voice to help enhance our service.
Conclusion
In the arena of inventory tracking, the showdown between Atlassian Asset Management and AssetIT has been quite the spectacle. Atlassian Asset Management comes in strong with its seamless integration into the Atlassian ecosystem. Therefore, it has become a favorite among existing users. Meanwhile, AssetIT wows with its flexibility and user-friendly features, making it a top choice for those seeking a versatile solution.
But here's the thing, there's no clear victor in this match. The winner depends on your organization's unique needs and preferences. What's undeniable is that modern asset management is evolving rapidly, offering innovative solutions for a complex and interconnected world. So, go ahead and pick the solution that best suits your goals. Let's just make sure your assets are managed with precision and efficiency.
Your input always plays a vital role in enhancing our offerings and ensuring that we continue to meet your expectations. Consider sharing your thoughts and leaving us a review here.