Managing your organization's IT assets effectively is crucial for smooth operations and cost control. But it doesn't have to be an overwhelming task. Jira, an Atlassian project management tool, has long been known for helping users overcome the difficulties of IT asset management. Jira assets with many useful plug-ins, such as AssetIT, have overcome many challenges and are at the top of users' minds. 
So, think of it as organizing your tech life – a bit like managing your home or personal finances. With the assistance of Jira Assets, let's navigate the world of IT asset management with 10 practical tips and some in-app examples of AssetIT.
1. Choose the Right Asset Management Tools
Start by selecting user-friendly asset management software. Imagine you have a personal tech organizer that helps you keep track of your hardware and software assets. The goal is to have a system that provides real-time insights through easy-to-read reports. With all of these requirements, we have come up with some ideas:
Jira Assets
Assets in Jira Service Management, available for both Cloud and Data Center, offers a comprehensive asset tracking and management solution. It enables customization with custom schemas, object types, and attributes, streamlines user role administration, and seamlessly integrates with Jira Service Management. You can easily import and export data, visualize asset relationships through graphs, and perform advanced searches or bulk edits for efficient asset management.
In the Cloud version, you gain additional advantages, including service management, web data import, task automation with Atlassian Automation, and insightful reporting through Atlassian Analytics. Assets in Jira Service Management is your all-encompassing tool for optimizing asset tracking and management, whether you're on the Cloud or Data Center, ensuring organized and efficient operations.
But here's the catch: Jira Assets comes with a premium price tag. That means you'll need to opt for the premium package of Jira Service Management to get your hands on it. While it offers some fantastic asset tracking features, this premium-only access might not sit well with everyone. So, before you dive in, take a moment to think about your needs and budget to make sure it's the right fit for you.
AssetIT
Now, let's talk about AssetIT – it's got a lot going for it. First off, AssetIT, also an IT asset management solution, is a plug-in for the Jira platform. This means it seamlessly integrates with Jira to provide Jira asset management capabilities, making it a potentially convenient choice for Jira users looking to manage their IT assets effectively.
Additionally, it's available for both Cloud and Data Center server setups, so you've got options. But what really makes it stand out is its user-friendly interface. Organizing IT resources, especially when it comes to asset management in Jira, can be a bit of a headache sometimes, but AssetIT makes it feel like a walk in the park.
Here's the kicker: Asset IT offers reasonable pricing packages, so it won't break the bank. And the best part? If you've got a small team of up to 10 users, you can use it for free. So, if you're looking for an efficient IT asset management solution that won't cost you an arm and a leg, AssetIT might just be your go-to choice. Let's give AssetIT a try via the Atlassian Marketplace.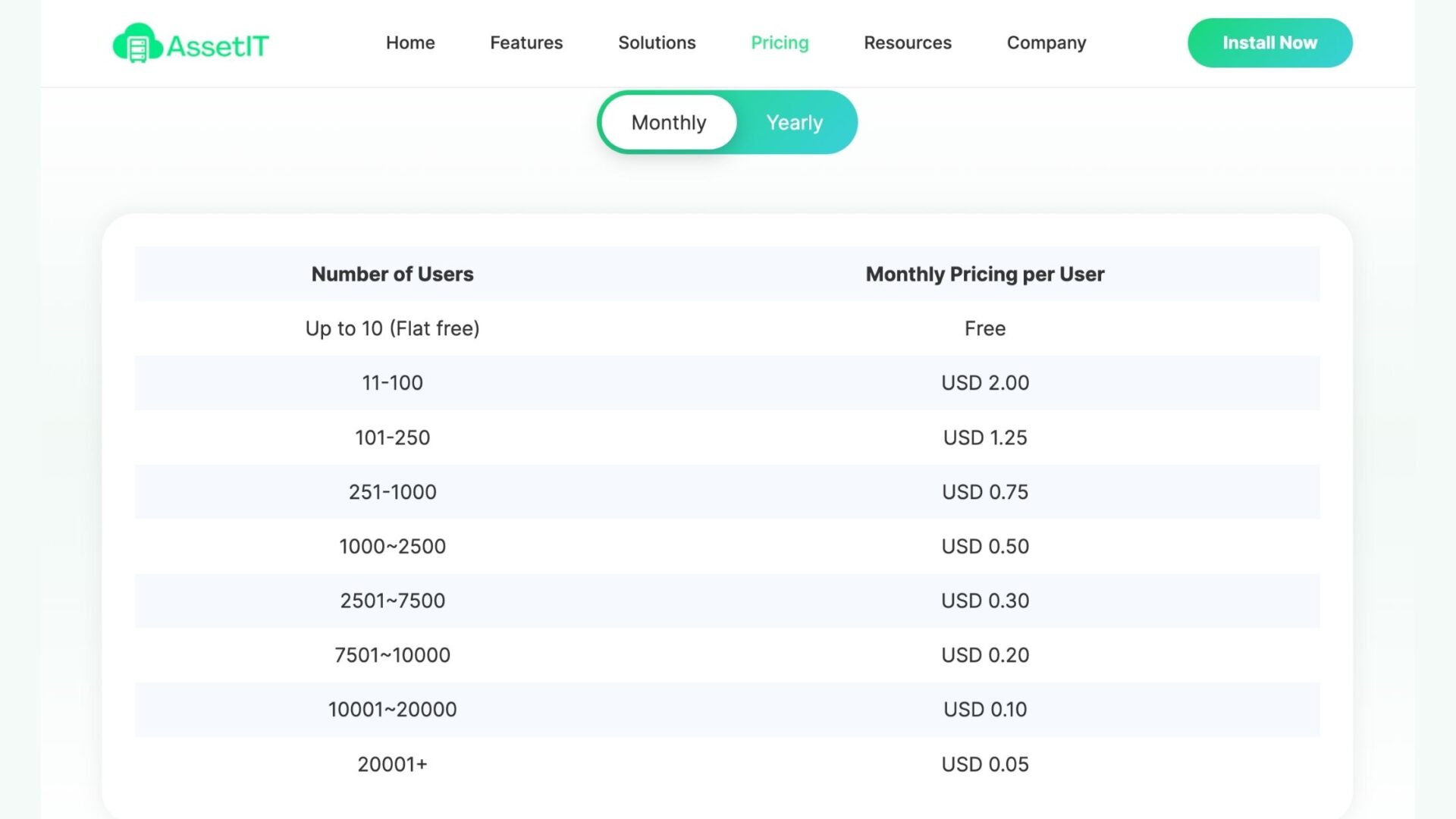 2. Make a Detailed Asset List
Imagine you're making a shopping list, but it's for all your tech goodies. Create a list that covers everything – from computers and servers to software licenses. Don't forget to note down important details like purchase dates, warranties, and vendor contacts.
Let's break it down with an example: AssetIT is a handy tool that lets you import a diverse array of assets. Think hardware, components, consumables, and even digital assets like licenses and contracts. You simply feed the app your list, and it takes care of the rest.
What's more, it comes packed with filters and nifty visualization features that make Atlassian asset management a breeze. So, whether you're handling a mix of physical or digital assets, AssetIT has your back.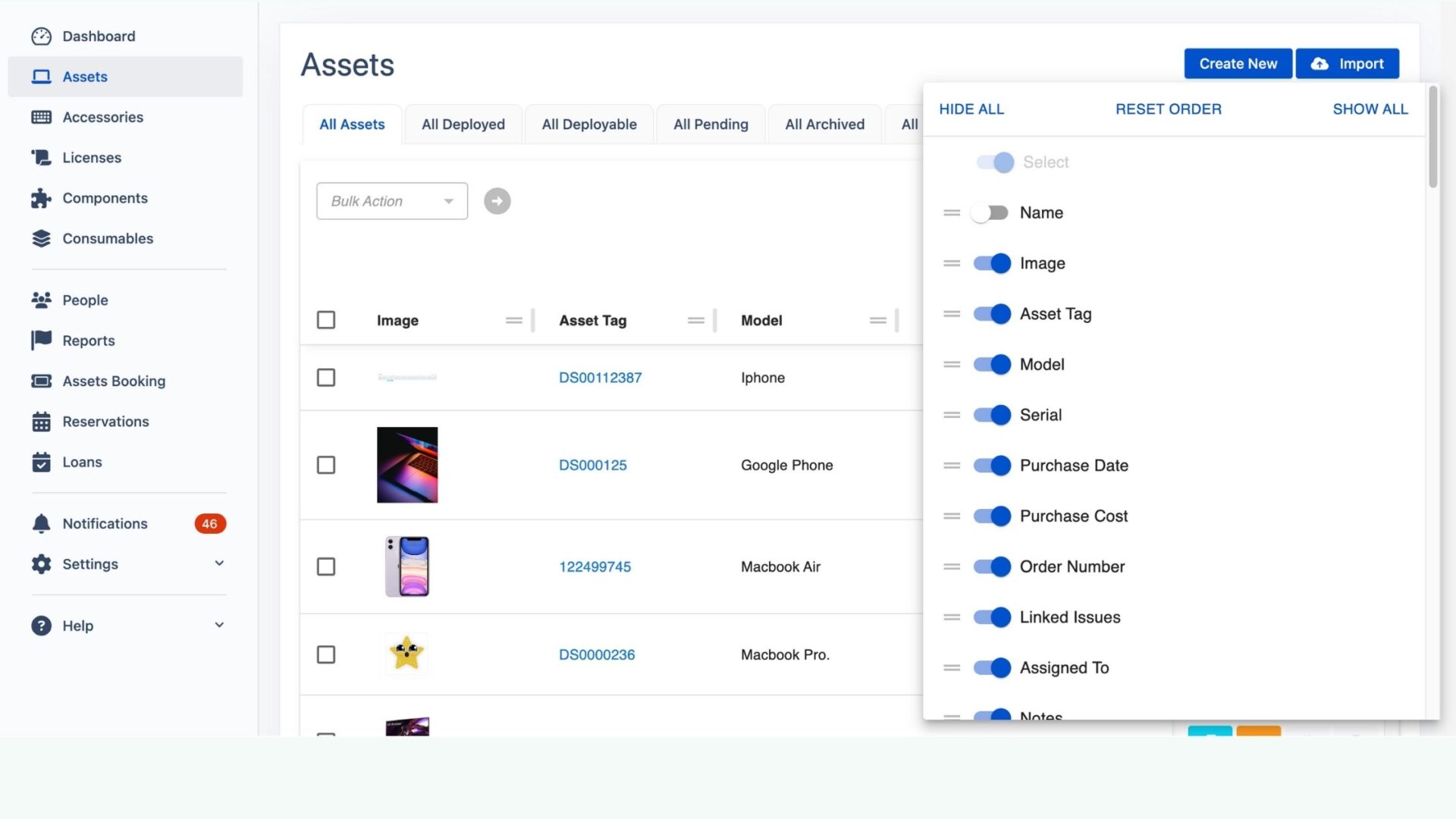 3. Plan Jira Asset Management's Life
Your Jira assets need a plan, just like any other aspect of your life. Develop a step-by-step strategy that covers everything from acquiring a new asset to setting it up, taking care of it, and eventually retiring it when the time comes. Consider this plan as a roadmap for your Atlassian asset management process.
Learn more: What is Jira Asset Management?
4. Keep Tabs on Your Tech
Ever lost your phone or keys? Tracking tools act like GPS for your Jira assets. You can use QR tags or barcodes for physical items and specialized software to monitor your digital assets. In AssetIT, you can effortlessly generate QR codes for your IT assets, not to mention generate many codes at once with bulk action. This not only saves you time but also ensures that your assets are easily identifiable and trackable, making asset management a whole lot more efficient.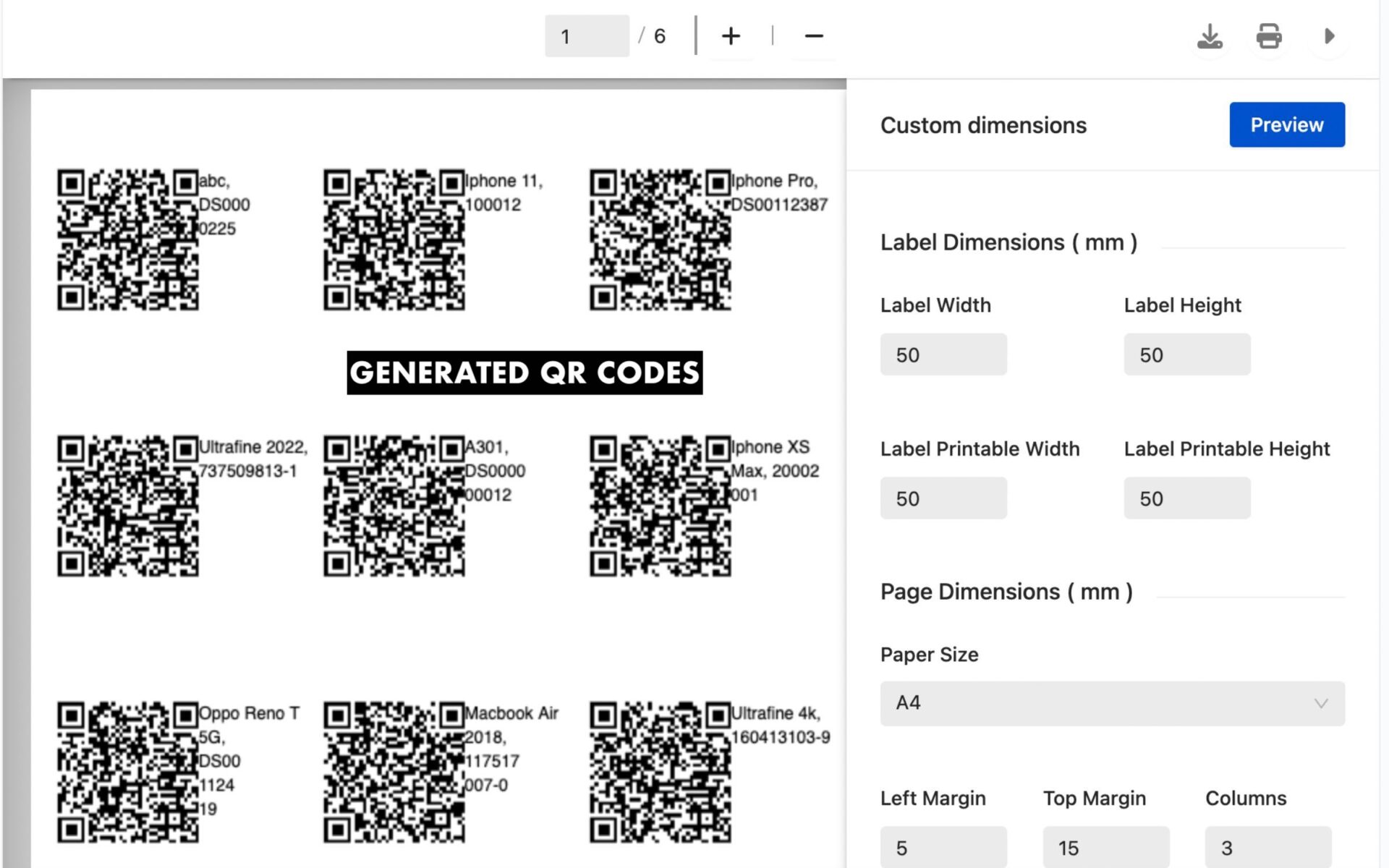 5. Regular Checkups and Paperwork
Think of it as taking your tech to the doctor for a yearly checkup. Regularly go through your Jira assets to ensure everything is working as it should. Keep meticulous records of any changes you make, such as installing new software or upgrading hardware. This is like maintaining your thing's medical history.
6. Save Money Wisely
Just as you keep an eye on your finances, it's essential to watch your tech budget. Analyze how your asset is being used – if something isn't pulling its weight, it might be time for a change. And remember, don't overpay for software licenses.
7. Security First
Locking your front door is crucial, right? Well, keeping your tech secure is just as important. Regularly update your software to keep it safe from vulnerabilities. And don't forget to keep the necessary documentation to prove compliance with regulations and licensing agreements.
You can breathe easy with AssetIT because it's thought of everything, including security and transparency. It's set up distinct permissions for users, admins, and super admins. What does that mean for you? Well, it ensures that each person has just the right amount of access and control they need. This way, you can keep your IT asset management system transparent, in line with your policies, and protected from any unauthorized tinkering. It's all about keeping your IT assets safe and sound.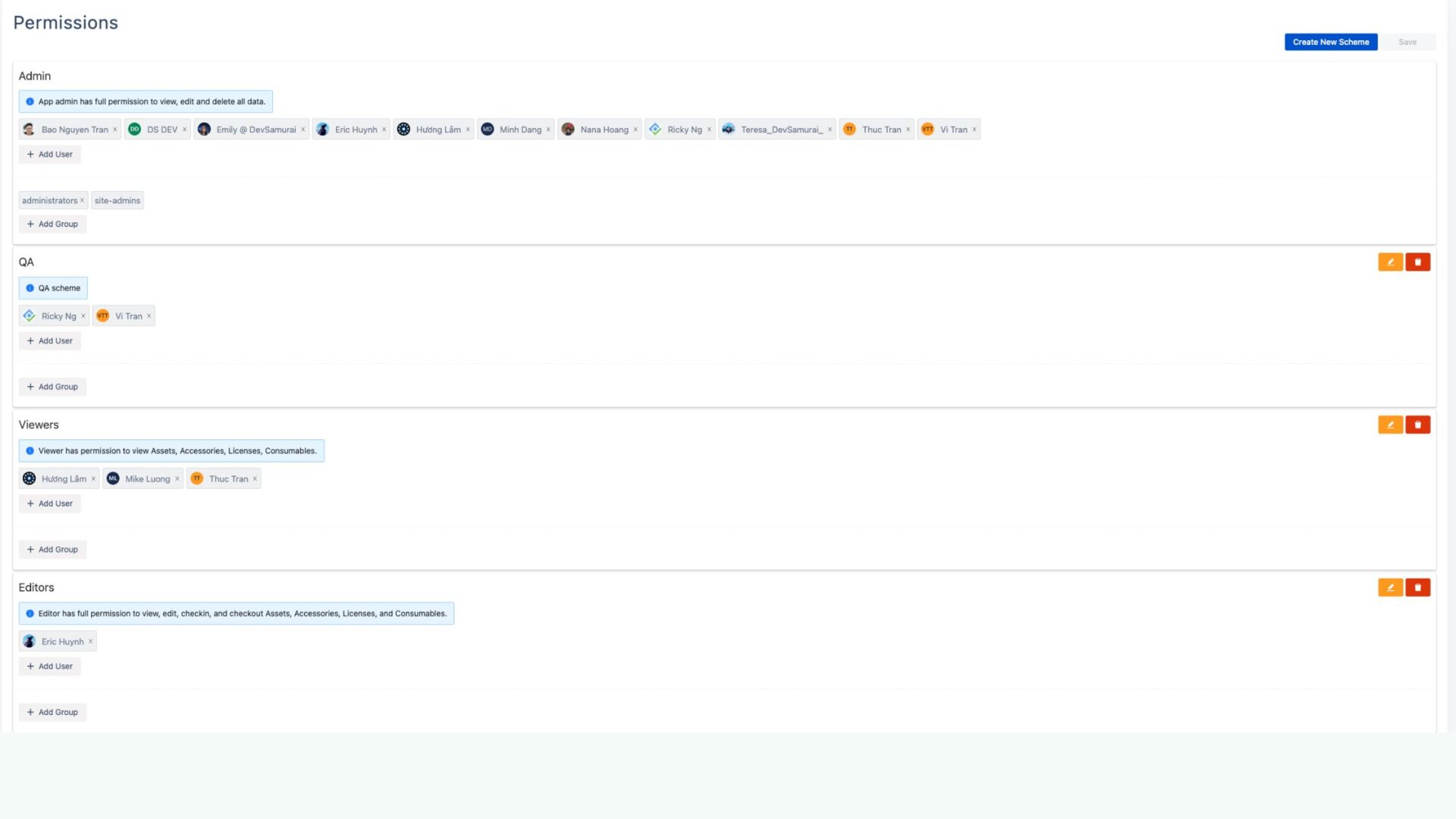 8. Educate Your Team
Think of it like teaching someone a new skill. Train your IT team and all tech users to understand why IT asset management matters. Encourage responsible tech use and ensure everyone knows how to report issues.
9. Prepare for the Unexpected
Just like having a backup plan for a rainy day, create backup and disaster recovery plans for your critical tech. Test them out to ensure they work when you need them most.
10. Develop an effective IT asset management strategy
Imagine you have various pieces of technology in your life, like computers, smartphones, or even software licenses. These are your Atlassian assets. Now, just like you plan different aspects of your life, like your career, education, or health, your IT assets also benefit from having a well-thought-out Jira inventory management plan. Here are the fundamental criteria for an effective IT asset management strategy
Acquisition
This is the stage where you decide to bring new technology into your environment. Imagine you're a small business owner, and you decide it's time to upgrade your office computers. You research different models, compare prices, and consider your budget. After careful consideration, you decide to purchase three new computers that meet your business needs.
Setup
Once you have the new computer in hand, it must be set up correctly. This involves unboxing, connecting peripherals like monitors and keyboards, and installing an operating system, a Jira CMDB, like Asset IT.
Maintenance and Care
You've been using your laptop non-stop for assignments, research, and Netflix binges. But you remember it needs some TLC too. You schedule regular updates, run antivirus scans, and back up your important class notes to an external drive. You're on top of things!
Use and Optimization
As you use your asset, you may discover ways to optimize its use, such as finding new features or workflows that enhance your productivity. This stage involves continuously improving how you utilize your IT assets.
Retirement
Technology doesn't last forever. Eventually, your asset, like the iPhone, will become outdated or reach the end of its useful life. At this point, you need a plan for retiring it. This could involve safely disposing of hardware, canceling software subscriptions, or migrating to newer technology.
Unlocking Success with AssetIT: The Key to An Effective Asset Management Strategy
By following these down-to-earth tips with the assistance of AssetIT, or whatever Jira asset management tools fit your needs, you can manage your Jira assets like a pro. It's all about making your IT assets work for you and keeping things running smoothly. Happy tech managing! 🚀
If you have any inquiries, please visit our Support Desk for prompt assistance.
Check out our features at AssetIT on Atlassian Marketplace