Dear Valued AssetIT Users,
We would like to express our deepest gratitude for your unwavering support and trust in AssetIT as your go-to solution for efficient asset management. Your feedback and enthusiasm have been invaluable in shaping our product, and today, we are thrilled to announce a major milestone in our journey: AssetIT for Jira Data Center New Version released – Version 1.0.0
Let's explore what's new in this version.
AssetIT's First Release for Jira Data Center
We are excited to unveil the latest update to AssetIT, marking our first-ever release for Jira Data Center hosting. With this significant enhancement, AssetIT now extends its support beyond Jira Cloud to empower organizations to manage their assets within the Jira Data Center environment.
AssetIT's robust features and functionality, previously available for Jira Cloud hosting, are now accessible for users leveraging Jira Data Center. We understand that many businesses rely on Jira Data Center's scalability, resilience, and control, and we are committed to providing a seamless asset management experience within this environment.
The Main Features for Version 1.0.0
in Latest Update
Asset management enables the tracking of hardware assets, licenses, accessories, consumables, and components.

Custom reports, custom dashboard

Assets booking, reservation, and loan

QR codes generation

Custom fields and field sets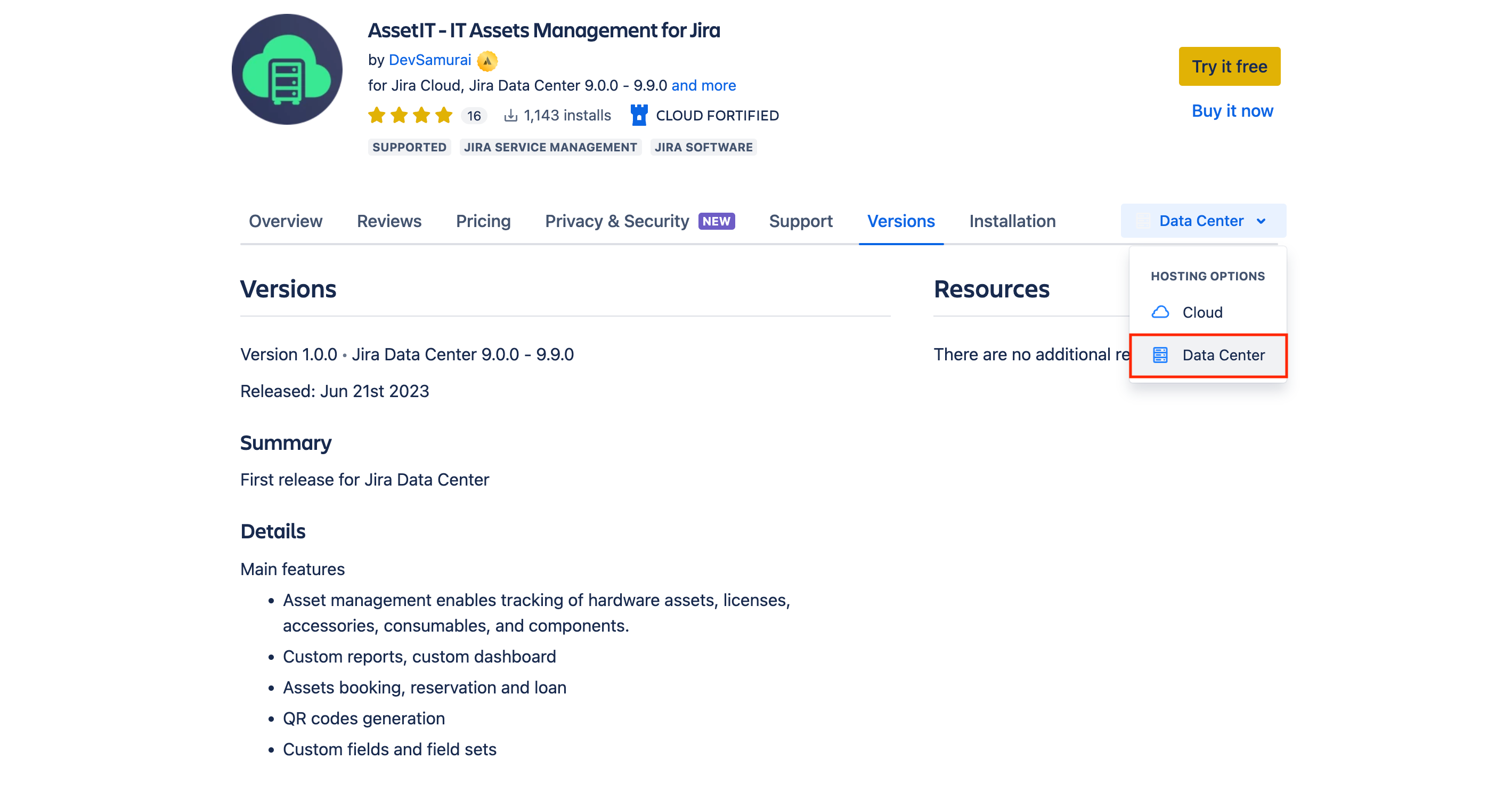 To learn more about the latest update on AssetIT and explore the full range of the new version, try AssetIT on Atlassian Marketplace at AssetIT for Jira or get in touch with our dedicated Support Team. We are eager to assist you in harnessing the true potential of AssetIT within your Jira Cloud and Jira Data Center hosting environment.
Once again, we wish to convey our heartfelt appreciation for your continuous support, valuable feedback, and belief in AssetIT. Your ongoing association serves as the driving force behind our progress, and together, we stand ready to embark on an exciting journey of growth and innovation!
Best regards,
-AssetIT Team-
For our previous updates and new features, please visit AssetIT's Update: Exciting Features, Enhancements, and Bug Fixes | AssetIT New Version Release 1.2.7-AC